WHILE YOU'VE BEEN Facebooking your motley selfies, Matthew Hopkins has been posting a slew of new monsters—puppets he's made for this week's multimedia art-party brouhaha Awakening.
---
MERCURY: How'd you catch the puppetry bug?
MATTHEW HOPKINS: The first time I remember thinking I needed to make puppets was after seeing the music video for "Land of Confusion" by Genesis. Peter Fluck and Roger Law made those puppets, and they blew my mind! Of course I also loved everything that Jim Henson did: Muppets, Labyrinth, The Dark Crystal. My tastes always skew to the slightly dark with a twist of humor.
I got my BA in theater/film from Western Washington University in 2002, then got involved with many theater and film projects including a sketch comedy duo, Furioso!, the Working Theatre Collective, and Action/Adventure.
I started making puppets in earnest about four years ago, because it put together my love of performing and fabricating. My first puppets were made for a show called Captured by Aliens! [at Action/Adventure Theatre]. The success of that led to several other jobs and allowed me to found my own company, Nightmerriment. Along the way I've had the pleasure of working with and learning from many gifted artists like Tim Oakley and Rick Gamez on projects like Grimm, Star Trek into Darkness, and RoboCop.
---
Besides miscellaneous monsters and people, what animals have you made?
I've made an 11-foot-tall Smaug dragon, a werewolf, a parrot, a robin, and a mole.
---
Which is your favorite one?
My favorite animal I've made is the mole. My favorite monster is a blue one named Greg. He's kind of a version of myself.
---
What materials do you use?
I make puppets out of whatever materials suit the project. I like materials that mimic life-like hair or skin textures. I think something that sets my puppets apart is that they have features that look natural but are arranged in a cartoonish way, so they look like happy nightmares.
---
You recently combined forces with video maven Jade Harris (who did animation for Blitzen Trapper's "Furr") and released P.T. Walkley's "Don't Forget About Me" video, a puppet/Soul Train spoof. What are you guys—AKA "Werk Studios"—werking on next?
We've both been involved in a few projects together but Werk Studios was started when we made Ian Fights the Fuckit Beast [for the Action/Adventure fundraiser Inspired By] and has continued with "Don't Forget About Me." We have a few ideas for upcoming projects, but nothing concrete yet.
---
RAW Presents: Awakening, Bossanova Ballroom, 722 E Burnside, Thurs Feb 20, 7 pm, $15-20, rawartists.org
Sponsored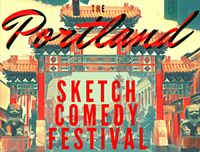 Sketch comedy troupes from all over N. America descend on The Siren Theater for 3 glorious nights.