EVERYBODY MISSES the point about bike helmets. (Why, yes... I am looking at you!)
The overprotective nanny state assumes wearing a helmet will provide the rider with near invulnerability, citing reports they can "prevent up to 85 percent of head injuries." (What they fail to note is that none of the cyclists in this study collided with a motor vehicle.) On the other hand, anti-helmet folks will make any hilarious justification necessary to go helmet-less—like citing the above report and not admitting that a helmet could possibly protect your head a weeeee little bit in a collision with a car. They also refer to a study where drivers give less room to helmeted bicyclists as opposed to their helmet-free counterparts... inferring that all drivers are of one Borg-like mindset, genetically programmed to swerve at anything wearing head protection.
But there's another opinion in this debate: EVERYBODY CAN FUCKING RELAX. Do what you want—just drive and ride safe, realize that most cyclists pay for the road just as much as you, and remember that your mom would rather not see you in a coma just because your bike slips on a wet manhole cover.
Me, I like helmets. They are not a panacea, and they won't protect me if I get mowed over by a cement truck. But if I get doored, and my head hits the ground first? I will live to write another article that will make you unreasonably furious.
All that being said, DEAR GOD ARE MOST BIKE HELMETS UGLY. True, fashion is not their primary point, but since none of you can seem to agree on what is their primary point, fashion can at least be a consideration. So! If your personal prerogative is to wear a helmet, here are five examples that ensure you do so with a modicum of style:
Lazer's Street DLX Urban Luxury (Wood Grain)
This is the helmet I wear. A great multipurpose helmet, this baby fits my head like a dream, has multiple thickness padding, a magnetic clip fastener—and looks like REAL WOOD, y'all! (They also have a darker brown "varnished wood" model, as well as one that's nearly jet black with a wood finish. But mine looks the best, and makes even the helmet-haters jelly.)
$65, lazersport.com
Smith Optics' Forefront (Matte Black)
Question: Do you have a lot of money? (Don't be snobby about it, a simple "yes" or "no" will do.) If so, and you love top o' the line noggin protection, check out Smith Optics' Forefront line, which combines lots of ventilation, lightness, and impact-absorbing Koroyd technology. Plus it reminds me of the helmets Luke and Leia wear on those flying speeder bikes in Return of the Jedi. (Why don't you tell them they're idiots for wearing helmets?)
$220, smithoptics.com/forefront
Specialized's Covert (Pink Clouds)
For those who prefer a little "artsy" on their heads, Specialized has an inexpensive but creative line of headgear reminiscent of the Nutcase brand—though visually more subdued. I like the rear-facing concentric circles on this white helmet, because it says, "I'm interesting," without screaming, "I'm WA-WA-WACKY!"
$40, specialized.com
Nutcase's Artists Series (Locombia)
As I mentioned, Nutcase doesn't really deal in "subtle." But they are an easy-to-find (and Portland-based) alternative to those ass-ugly racing helmets beloved by the aggro spandex crowd. The Locombia is part of Nutcase's Artists Series, and created by Colombian artist Sandra Ramirez, whose aesthetic favors crazy cyclists and big thumbs. For people who like a conversation starter.
$70, nutcasehelmets.com
Giro's Reverb (Matte White CA Bear)
I like this one because it has a bear on it. That is all!
$60, giro.com
---
More Bike Issue Articles:
Helmets (for the Helmet Haters)
Sponsored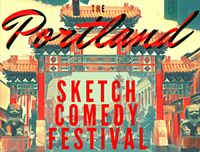 Sketch comedy troupes from all over N. America descend on The Siren Theater for 3 glorious nights.