TWO YEARS AGO, the collective known as FreeDarko fired a shot across the sports-writing bow with FreeDarko Presents The Macrophenomenal Pro Basketball Almanac. The collective aimed to offer basketball fans the world over an intellectual, hilarious, absolutely sincere examination of the sport without relying on locker-room access (thankfully there are no "both teams played hard" quotes here) or the hackneyed morality of your run-of-the-mill newsprint columnist.
They succeeded on all fronts.
Their return to the bookshelf is FreeDarko Presents The Undisputed Guide to Pro Basketball History, which departs slightly from Macrophenomenal's visionary examination of the personalities that propel the NBA, and instead offers a broad and utterly fascinating history lesson of the game. While the book pays tribute to the earliest days of James Naismith (or as they poetically dub him "the Peach Basket Patriarch"), better history lessons include obscure ethnic barnstorming squads (including the All American Red Heads, an all-ginger female team that toured in a limousine), baffling mathematical charts that compare the rise in league scoring to the English agricultural revolution, and a unique examination of the American Basketball Association ("The ABA was a professional sports league in the same way that a lump of viral matter counts as a life-form"). Even for those aware of basketball's well-documented roots, FreeDarko's essays and vivid illustrations filter out the drab details and pay homage to the personalities that have stood the test of time.
While they scrutinize the past—their fine essay on Red Auerbach's early Celtics teams better explains the franchise than all 700-plus pages of Bill Simmons The Book of Basketball—FreeDarko observes players from the modern era as well, from the doomed legacy of Drazen Petrovic to debunking the Allen Iverson myth of hiphop thuggery in the NBA ("Iverson was reviled as a 'thug,' largely because he looked like the denizen of a back-alley dice game as imagined by BET").
At no point does The Undisputed Guide to Pro Basketball History claim to be what its title boasts. Instead, the book is an essential guide to the NBA as seen through the eyes of brilliant outsiders—writers, statisticians, and illustrators—unwilling to describe the contents of the game in the typical language of the sports section. If you are watching basketball without the guidance of FreeDarko, you are simply doing it wrong.
Sponsored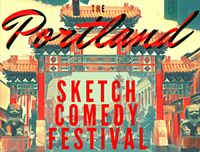 Sketch comedy troupes from all over N. America descend on The Siren Theater for 3 glorious nights.