PORTLAND'S ENDLESSLY bubbling small-press scene just produced two new booze-based zines that pair as well as gin and olives, bourbon and soda, or vodka and just about anything. One is an irreverent, illustrated how-to guide to making classic cocktails; the other, a bartender's-eye view of one Southeast Portland bar.
Drink Primer is David Cooper's cheat sheet of cocktail recipes, from the Aviation Cocktail to the White Russian, each featuring a charmingly offbeat illustration. (I like the illustration for "The Dogs: Greyhound, Salty Dog, and Whippet," in which lazy canines enjoy a few grapefruit-based beverages.) It's a handy little bar guide, thorough and respectful of its recipes while maintaining a lighthearted tone; Cooper even finds room, among the gimlets and sidecars, for a Flaming Dr. Pepper: "Not really a classic," he writes. "Fuck it. Whatever."
In volume one of the autobio comic Adult Babysitting, illustrator/cartoonist Maryanna Hoggatt offers up a slice of bartending life that'll be familiar to anyone who's spent time behind a bar, and enlightening to anyone who hasn't. One story highlights wisdom accumulated during years in the service industry, like "Never ask a girl why she's crying" and "A drunk customer is never right." (She also makes the accurate observation that crazy things happen when the moon is full—call me a hippie, but she's right.) The best part of the book is a pretty, eight-page color spread depicting the changing of the seasons as witnessed from her perch behind the bar; not only are the colors perfectly evocative, but the fixed perspective captures the faint melancholy of watching the world go by while you're stuck standing in one place.
Sponsored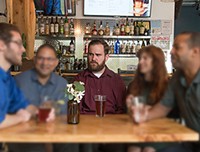 Adults aged 18-35 with good hearing will be paid for their time. Located at the Portland VA Medical Center