IF YOU HAPPEN to wander into a Portland gallery this month, you'll likely find yourself surrounded by photos. This month is the second annual Portland Photo Month. Every other year in April, the nonprofit organization Photolucida holds the Portfolio Reviews Festival, an event that attracts curators and photographers from across the country. Even though 2012 is an off year for the festival, there's still plenty to take in.
Some of the best work you'll see this month is not at a traditional gallery but rather at Ampersand Vintage, a smartly curated emporium on NE Alberta. Since 2008, the shop has served as a well-polished cabinet of curiosities, with troves of unique photo books and intriguing artifacts. Gazed Upon, their current exhibition, is a collection of three female photographers: Stacey Tyrell, Jen Davis, and Cara Phillips. Curated by Portland-based artist Amy Elkins, the work is all about the ladies: a black artist digitally manipulates her skin color to appear as a well-off white woman; a heavyset artist addresses beauty ideals with images of her own muted sexual fantasies. Accompanying the show is a lovely exhibition catalog designed by Ampersand. Owned by Myles Haselhorst, the store is amazingly ambitious: Last year they made big remodels to their space, earlier this month they set up a pop-up shop in SoHo (in collaboration with the chic men's clothing store Dunderdon), and they currently have plans to begin an online archive of their store.
Moving along to the basement of the Portland Art Museum, a mélange of images are on display in Emerging: New Photography Acquisitions. Chosen by the museum's photography curator, Julia Dolan, the exhibit pulls from more than 500 pieces donated to the Portland Art Museum between 2009 and 2011. There are old favorites like Berenice Abbott and Eadweard Muybridge, more contemporary folk like Jim Dine and Lee Friedlander, and the conceptual art of Caleb Charland and the narrative-rich work of local Holly Andres. Many of the images are gifts from Portland's Blue Sky gallery, evidence of that institution's huge contribution to photography in the city. The gallery began in 1975 by a handful of local photographers as a small space, which has since grown to build an international reputation.
Slightly off the beaten path, Reed College's Douglas F. Cooley Gallery exhibits the dreamy work of Image Myths by Lorna Bieber, while the recently opened Black Box Gallery on East Burnside serves up another group with Technology: High and Low. Also on the Eastside is the co-op gallery space Newspace Center for Photography, which holds its annual exhibit Critical Mass—a collection of up-and-coming photographers pulled together for a catch-all exhibit subtitled Contents: Love, Anxiety, Happiness, and Everything Else.
Stretching beyond Portland's various white walls is the project Then.Now.Here. Initiated by Photolucida, Then.Now.Here collects photos from a call for submissions. A slideshow of photos will be projected on buildings throughout the city, on designated dates, which began earlier this month with a projection on the Pearl District's DeSoto Building (see thennowhere.org for showings). Like a number of projects these days (see Dill Pickle Club's Oregon History Comics), it aims to give Portland a historical context. Curated by artist Raymond Meeks, the project includes some familiar names such as Christopher Rauschenberg and Clayton Cotterell as well as institutions like the Clackamas County Historical Society. It's a project with a democratic spirit, for a democratic art form—which, with various institutional and commercial supports, is maintaining a solid foothold in Portland.
Sponsored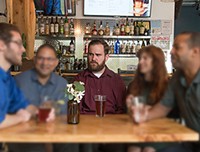 Adults aged 18-35 with good hearing will be paid for their time. Located at the Portland VA Medical Center