Just look at it: defunkt theatre.
Sponsored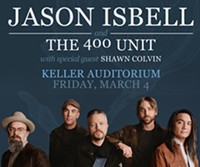 Jason Isbell has established himself as one of the most respected songwriters of his generation. Don't miss Jason Isbell and the 400 Unit, March 4th at Keller Auditorium!
The misspelled word and obstinate lowercasing. The insistence on the British spelling, with its nitpicky "re" ending. It's all just a little bit aggravating, isn't it? As though defunkt is looking down over black-rimmed glasses to inform you that no, it does not, in fact, care to play by your silly little rules, and that your attachment to constructs like "spelling" and "grammar" places you squarely inside the box from which this company has so deliberately removed itself.
For years, defunkt has produced defiantly difficult work, choosing and developing shows that emphasize rhythm, atmosphere, and sound over character and narrative. At the end of their 2008/2009 season, fully half of defunkt's ensemble left the company, leaving the three remaining company members to make what amounts to a new start. And with A Country Doctor, defunkt makes an exciting bid to shake the reputation for inaccessibility that's dogged them for so long.
This is not to say that A Country Doctor is in any way conventional, or that it makes a ton of sense. It isn't, and it doesn't (this is still an experimental theater company, after all). What it is, though—to dust off an overused critical plaudit—is engaging. Rather than alienate the audience with inscrutability, as defunkt at their worst has proven more than willing to do, A Country Doctor encourages and rewards curiosity. It's a puzzle—you don't get it, but you want to figure it out.
The show is based on Franz Kafka's "A Country Doctor," a short story about a doctor who must make his way to the bedside of a sick child some 10 miles away. The doctor's horse has died; to his surprise, he finds two new horses in his pigsty, but in order to ride them away he must sacrifice his housemaid to the sexual appetites of the horse's groom. When he arrives at the child's bedside, the boy begs to be allowed to die; the doctor thinks the boy is not sick, but as he is about to leave he discovers a worm-infested wound on the boy's side.
The source material is difficult to begin with, unless you're very up on your Hasidic metaphors and/or existential parables, and playwright Len Jenkin has superimposed his own layer of commentary over Kafka's short story, incorporating the tale of a harried wedding guest and Kafka's own backstory alongside that of the country doctor.
The ensemble swaps roles, adding to the confusion—most of the cast members get a turn at playing the doctor at some point. Under the direction of Danika Stochosky, this cast gives very good, very intelligent, and very funny performances—Aubrey Jessen (of Fall of the House fame) is handily one of the most likeable young actresses working in town right now, and youngster Nick Sherbo is served well by a Shatner-esque charm. A particularly outstanding turn comes from Lara Kobrin, who also co-stars in the web series Wage Slaves and had a solid turn in Lucky Apple's Fat Pig in January. She's one to watch.
At the beginning of A Country Doctor, a salesman pitches a new product to the audience: a "lookbackoscope," capable of changing the perception of whoever looks through it. At some point, it's easiest just to assume you're seeing the whole show through a lookbackoscope: You might not be entirely sure what's going on, but you're going to want to keep looking—and that, for a company known for inaccessibility, is a revelation.