THOSE FAMILIAR with John Irving's books will find some obvious touchstones in his 14th novel, Avenue of Mysteries. As in The Cider House Rules, the events of the story are centered on an orphanage—and in particular, on two of the orphans, a brother and sister named Juan Diego and Lupe. Like the titular character in A Prayer for Owen Meany, young Lupe's voice is mangled (only Juan Diego can understand her); also like Owen Meany, she possesses an inexplicable, otherworldly gift, in this case an unnerving ability to read minds. As with The World According to Garp (and several of Irving's other books), the central protagonist—Juan Diego—is a writer. And like A Son of the Circus, there is, of course, a circus. (Regular Irving readers will be surprised to learn there are no bears anywhere in the story, but a foursome of lions suffices.)
Despite these similarities, Avenue of Mysteries may be Irving's strangest, most elusive work yet. Unlike the precise, world-bound realism that characterizes most of the 73-year-old's lengthy novels, this new one deals with ghosts, memories, and miracles.
The narrative bounces back and forth between parallel strands: Juan Diego's 2011 trip to the Philippines, and the drug-assisted memories of his early '70s childhood in Oaxaca, Mexico, where he and his sister live in the city dump. Some Jesuits get involved in the plight of the two dump-dwelling not-exactly-orphans (their mother is a prostitute)—relocating them to an orphanage, and, later, a circus, where Lupe's mind-reading abilities are of great interest.
As with all of Irving's work, tragedies abound. The cloud of Catholicism hangs over each of these characters, and the book contains long discussions about the Virgin Mary and her Mexican apparition, Our Lady of Guadalupe. Much of the writing is completely engaging; Irving's a master at both setting up his stories' improbable events and appropriately withholding narrative information; the way the not-exactly-orphans' story unfolds is sentimental and funny.
But more than a few chunks of the book are bogged down by over-explication. For instance, every time Lupe speaks, Juan Diego has to interpret for her, which gets repetitive quickly. The memory/flashback technique is burdensome. And most of the Oaxaca scenes take place with six or seven characters present, all performing a round robin with the dialogue.
Avenue of Mysteries does nothing to change the perception that Irving's greatest work is behind him, but this weird, inexact, shape-shifting story does stick with you—it's more than a reasonable consolation prize.
Sponsored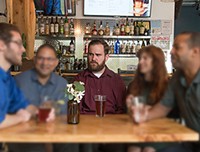 Adults aged 18-35 with good hearing will be paid for their time. Located at the Portland VA Medical Center