IN THE SPACE of three albums and a handful of splits and singles, Kowloon Walled City have grown from a twisted Amphetamine Reptile-indebted noise-rock group into a sparse, sludgy behemoth all their own. Despair and fragility color every song, and if you've seen a Kowloon Walled City album cover, you'll know those colors add up to a morass of gray and black.
Scott Evans, speaking from his California home, where he spends his days programming, discusses the consciousness of the band's transition from feral machine to a sparse, deeply human sprawl. "For the first few years we were just doing a thing," Evans tells me—their thing being a deep worship of Godflesh, Unsane, and simple guitar rigs, among other things. "After you've done that thing for so long, you kind of look and say, 'Well, this is our thing.'" Like the Clash's London Calling, Fugazi's In on the Kill Taker, or Sleater-Kinney's Dig Me Out, Grievances is the sound of a band taking stock of their lessons learned and turning those into a stunning new vocabulary.
Evans is a naturally curious man—the first thing we do in our interview is figure out why Skype audio calls only stream through the right speaker of our MacBooks (the microphone is near the left speaker and would induce feedback otherwise, we deduce). His curiosity leads him through multiple pursuits as recording engineer, programmer, and family man. Kowloon Walled City's records sound drab—the drums thud, the guitars chime, and his vocals barely tear over the instrumentation—but the effect is monstrous. Evans maintains that his recording practices are "not philosophically based." Instead, he argues his aim in recording is to "provide the right illusion."
"It's the same thing as making a movie. It's a huge facade. I think a lot of people don't realize that, but there's 82 different takes that are cut together with different cameras at different passes."
Although he uses the term "hobbyist," Evans' curiosity takes him to limits far past most dabblers and tinkerers. We take a five-minute detour discussing putting a microphone on the resonant head of tom drums—that is, the side of the instrument that doesn't get hit. (Evans does this, if he has time). "If I wanted a super-casual hobby," he says, "I would go do something else."
Sponsored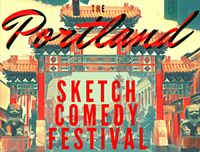 Sketch comedy troupes from all over N. America descend on The Siren Theater for 3 glorious nights.