FACT: BOB SEGER'S "Like a Rock" was inspired by Dwayne "The Rock" Johnson. "My hands were steady," Seger sings. "My eyes were clear and bright. My walk had purpose. My steps were quick and light. And I held firmly to what I felt was right—like a Rock."
Sponsored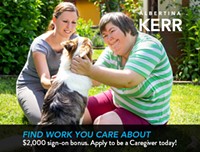 Become an Albertina Kerr Caregiver & help people experiencing intellectual and developmental disabilities.
Seger, clearly, is as well-versed as anyone in the films of the Rock—those remarkable visions brought to vibrant life by Johnson's roguish grin, effortless machismo, and bone-deep wholesomeness. The Rundown (2003). Walking Tall (2004). Race to Witch Mountain (2009). Fast Five (2011). Even Richard Kelly's tragically misunderstood Southland Tales (2006), an epic undertaking that not only reteamed the Rock with his crazed compadre from The Rundown, Seann William Scott, but also showcased one of the Rock's finest performances to date. And let us not forget Johnson's forthcoming films, like Michael Bay's crime caper Pain & Gain—which costars Marky Mark—and Justin Lin's Fast & Furious 6, in which the Rock will reunite with Vin Diesel, bringing along Haywire's haymaker-throwing heroine, Gina Carano, for what's sure to be a pedal-to-the-metal ride. Fast & Furious 6 will also feature a tank, and a car driving out of an exploding airplane.
Those will probably be amazing, but there's another upcoming Rock film, too—this weekend's G.I. Joe: Retaliation, a sequel to 2009's Rock-less, fucking terrible G.I. Joe: The Rise of Cobra. Retaliation was intended to be a rebirth for the series: By bringing in the Rock, Paramount Pictures seemed confident in their ability to make a G.I. Joe film that might be slightly less embarrassing for everyone involved—yet still exploit the nostalgia of all the gullible, slack-jawed man-children raised in the '80s.
But then. Then came word of Retaliation's catastrophically poor test screenings. Of a hasty 3D conversion. Of a series of last-minute reshoots—brought about by the unexpected successes of 21 Jump Street and Magic Mike—intended to cram more Channing Tatum into the movie. Last June, Retaliation—directed by Jon M. Chu, the man behind Justin Bieber: Never Say Never and Step Up 2: The Streets—was bumped from its prime summer release date.
Naturally, the person who was most disappointed in the news was Bob Seger. Upon learning how much longer he'd have to wait to see Retaliation, Seger wrote the tortured "Someday." "Someday [I'll get to see G.I. Joe: Retaliation]," he sang to a distressingly despondent crowd gathered at a downbeat taping of WWE Raw. "And then we'll smile. And toast our glasses high."
Well, Mr. Seger, that someday is here. But keep in mind that, just as with The Rise of Cobra, Paramount wouldn't let critics see G.I. Joe: Retaliation ahead of time. So it's probably fucking terrible. Instead, let us look forward. To Pain & Gain. To Fast & Furious 6.
Those will be out soon enough. And then we'll smile. And toast our glasses high.