With the blessing of his label, Comedy Central Records, Matt Braunger chose where to record his second album. Thanks to the corporation's wide network of sound engineers, he could've picked just about anywhere. "I figured: Why don't I just do it in Portland?" says the comedian, who these days is based in LA. "I'm from there and it's one of my favorite cities."
Sponsored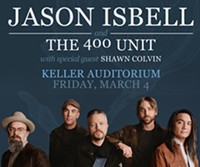 Jason Isbell has established himself as one of the most respected songwriters of his generation. Don't miss Jason Isbell and the 400 Unit, March 4th at Keller Auditorium!
"It's really a selfish thing," Braunger explains of his decision to record in Portland. "It's just like I used to do four or five years ago when I'd just get my own free trips back to Portland and I'd play the Towne Lounge." Back then he basically traded the door's take for his plane ticket. Opening those shows was Andy Wood, founder of the Bridgetown Comedy Festival—it was after one of those sets that the two comics, along with Kim Brady, hatched the original plan for the ever-growing fest. And while the shows have always treated him well, playing Portland is like a working vacation for Braunger—he checks in with his parents, family, and occasionally welcomes long-lost high school friends to his shows.
Much like Portland's stand-up scene at large, Braunger has matured steadily since those days at the Towne Lounge. He's since filled the Helium Comedy Club, and headlined tours across the States. His style is purposefully awkward, self- effacing yet exuberant and imaginative. For the last seven years he's called LA home, but Braunger gives great credit to his training in Chicago.
"In Chicago I was allowed to fall on my face as many times as it took to find out who I was as a person and who I was on stage," says the 37-year-old comic. The Windy City also instilled a workingman's sensibility. "I describe [Chicago's scene] as very intelligent and blue collar," Braunger says. "Guys like Belushi and Bill Murray, and guys and gals that started out from Second City, they kind of come from large families and working backgrounds but they're extremely well read."
Like those idols, Braunger has the rare ability to play both red and blue states—to find common ground with different audiences. Relatable enough for the glossy Jersey Shore crowd, Braunger remains idiosyncratic, self-defeating, and morbid enough for the hipsters in Silver Lake. That more eclectic side, Braunger says, comes from his parents and Portland.
"Growing up in Portland I just accepted the fact that we need the arts," he says. "That's something we sometimes forget. Without the artist, where is the release and our need for enjoyment and meaning?"
As for the venue in which to record his new album, Braunger found a place close to home. "I chose the Alberta Rose because it's blocks from where I grew up at NE 27th and Sumner," he says. "Just off Alberta and Killingsworth with my parents, I was a little kid, maybe three or four. It was brutal. All the bars were selling heroin over the counter. There was just nothing there. I just remember a general air of despair."
These days, the revamped neighborhood shares Braunger's bright outlook—offstage he is unrelentingly positive and enthusiastic. The attitude flows into his excitement for the record, which will be pressed on vinyl and available digitally. Online sales basically subsidize the pressing, but Braunger is just happy to have the document—a keepsake like those George Carlin and Richard Pryor records his parents had around the house.
"My favorite comedy albums are just concerts personified," Braunger says. "I wanna feel like I'm there."