The Marriage Plot announces its obsession in the very first sentence:
Sponsored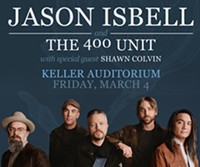 Jason Isbell has established himself as one of the most respected songwriters of his generation. Don't miss Jason Isbell and the 400 Unit, March 4th at Keller Auditorium!
"To start with, look at all the books."
The books are by Henry James, Jane Austen, the Brontë sisters, George Eliot—and they're arranged by publication date on the bookshelves of Madeleine Hanna, a Brown University senior who's about to graduate with a degree in English. It's a collection of texts, author Jeffrey Eugenides tells us, "seemingly chosen at random, whose focus slowly narrowed, like a personality test, a sophisticated one you couldn't trick by anticipating the implications of its questions and finally got so lost in that your only recourse was to answer the simple truth. And then you waited for the result, hoping for 'Artistic,' or 'Passionate'... but finally being presented with an outcome that cut both ways: 'Incurably romantic.'"
And that's Madeleine, one of the three protagonists of Eugenides' great new novel, his first since 2002's Pulitzer Prize-winning Middlesex. In a sense, The Marriage Plot is the story of the answer Madeleine gets when she takes the personality test presented by her own bookshelf, and how that answer changes. When she falls for a brilliant, bipolar classmate named Leonard, whose behavior becomes increasingly erratic as he struggles to manage his illness, she makes the naïve, love-struck decisions of a Brontë heroine—meanwhile, she's pined after by her theologically obsessed friend Mitchell, who's convinced himself that she's the woman he'll marry someday. The book's close third-person shifts between these three characters, as Leonard struggles to hold down work as a lab assistant, and Mitchell tours Europe and Asia in a post-college bid to find himself.
All the harping on Jane Austen and the Brontë sisters demands a comparison to 19th century novels: Madeleine's eventual awakening to her own interests and desires coincides with a reframing of her understanding of these very books. But there's also a natural comparison to Jonathan Franzen's Freedom, another slab of epic realism that attempts to refract giant social issues through the lives of a few characters. (Unlike Franzen, though, Eugenides never becomes mired in the misery of his characters.)
Eugenides pushes Madeleine's ideas about love through the Play-Doh press of semiotics and feminist literary criticism, and what squeezes out the other side is the same substance in a very different shape. Young people, Eugenides shows us, still have unrealistic notions of romance; still struggle to define themselves; still turn to the writing of others to better understand their own lives. (Mitchell is inspired to volunteer at a hospital in India after reading Saint Teresa of Ávila's The Interior Castle; Madeleine obsessively rereads Barthes' A Lover's Discourse while eating peanut butter straight from the jar.) But crucially, after leaving the cultishly Derrida-embracing academic environment of Brown in the early '80s, Madeleine learns that she doesn't have to disconnect herself from the Victorian female writers she loves—that, in fact, writers like Jane Austen and George Eliot were more radical than she'd ever suspected. She's exhilarated by lines from the 1979 feminist text The Madwoman in the Attic: "The son of many fathers, today's male writer feels hopelessly belated; the daughter of too few mothers, today's female writer feels that she is helping to create a viable tradition which is at last definitely emerging."
As Madeleine comes of consciousness against the academic trends of her time, Mitchell and Leonard grapple with their own personal narratives, and what role they can and should expect Madeleine to play. For all the books The Marriage Plot is built upon, it is resoundingly, enjoyably rewarding in its own right.
Bagdad Theater