YOU WILL LEAVE pop-up restaurant Mae stuffed to the goddamn gills with chicken fried in three kinds of fat, possibly having hugged chef Maya Lovelace, and definitely not stoked about having to work in the morning. This is the kind of feast that requires a solid sleep and several hours of exercise to work off.
Portland is awash in comfort food, but Lovelace combines her North Carolina roots with her time as sous chef at Beast and her experience cooking at acclaimed Southern restaurant Husk to create a parade of dishes with down-home finesse.
Held every Wednesday in the back room at Old Salt Marketplace, Mae packs 20-odd diners shoulder-to-shoulder into communal tables for a BYOB family-style dinner. Diners are welcome to bring their own glass if they want to drink out something fancier than a mason jar.
Lovelace, 28, named her pop-up after her grandmother, who lived in Hickory, North Carolina. As she and her partner Zach Lefler serve up the courses themselves, Lovelace peppers the arrival of each with a story. Arriving at Grandma Mae's involved a lot of eating—particularly the pickles that were stashed throughout the house, including under her grandmother's bed.
At Mae, the pickles are fantastic, in particular a jar of sweet corn fermented just like sauerkraut—an unexpected standout among 10 courses. Over two trips, ravenous guests tiptoe around the shared plates, worried about everyone getting their fair share from a dish of winter radishes with ramp butter and pickled rhubarb vinaigrette. As bellies fill, this courtesy is no longer necessary. There are fluffy Angel buttermilk biscuits that reach as high as heaven, paired with deviled ham, gobs of spicy pimento cheese, and pickled green cherry tomatoes for an acidic palate cleanser between decadent bites.
A small turret of "farroto"—farro grains from South Carolina's heirloom Anson Mills, prepared like a risotto with butternut squash and an apple pecan salad—seems impossibly small. But it's so rich that only a generous spoonful is really necessary. It's a mark of a canny Portland chef—bring them in for the fried chicken (more on that in a bit), but wow them with seemingly humble vegetable dishes.
"In the spring and summer, our menus will be exploding with cool produce," says Lovelace, who's been working with local Black Locust Farm to get most of her veggies. "We want to show that Southern food, like any poverty cuisine, is made from whatever grows in your backyard and whatever dry corn and salted pork you managed to preserve."
Dinner is $65 per person, although people are encouraged to pay what they think it is worth—or, in a nod to her fellow food industry workers, what they can afford. As of mid-February, Mae will also host a scaled-back $35 Monday night meal, with fried chicken and sides like pimento mac 'n' cheese (yes please) and biscuits.
The Wednesday night bacchanalia of butter crested with fried chicken—cooked in lard, bacon fat, and chicken fat—with an astonishing crust that was neither greasy nor prone to crumbling. There's a touch of sugar in Lovelace's proprietary blend of spices, but when you add a few dashes of the Crystal hot sauce, it becomes a recipe for compulsive eating.
The chicken comes with Hoppin' John (slow-cooked sea island red peas over Carolina Gold rice). It's one dish that needs tweaking—the first time I tried it, the beans were undercooked, and at both meals, everyone at the table applied hot sauce for more flavor. However, the fried cabbage—greens caramelized with gobs of bacon and smoked soy and tomato cornmeal gravy—was knock-you-on-your-ass delicious.
Lovelace closes with a final homage to her grandmother, who made cakes and sold them to Hickory restaurants to make ends meet. Last Wednesday involved a brown sugar pound cake with smoked cacao nibs, buttermilk Chantilly, and blood oranges macerated in Pitch Dark Chocolate bitters. It came with a cup of Lefler's house-roasted coffee—the only thing that kept me awake after jamming the last bite of cake into my cheeks like some sort of deranged human-hamster. A group of six men from the Carolinas at the next table over applauded after the last course.
"There is no better feeling than being told your food brought someone back to their childhood, their grandmother's table," Lovelace says. "People tell me I make them homesick for a home they never had. I feel like the icon of the Southern grandma is incredibly powerful, and being able to channel that is the coolest feeling in the world."
---
Mae happens Wednesdays at 7 pm, with Monday dinners planned for mid-February. Visit maepdx.com to join the mailing list. Bring your own beverage of choice.
---
[slideshow-1]
Sponsored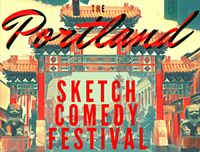 Sketch comedy troupes from all over N. America descend on The Siren Theater for 3 glorious nights.