Dear Oregon,
Sponsored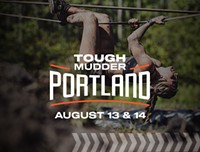 Lock in your summer adventure, Portland. Join us for world famous obstacles over a 5K or 10K distance.
1. Rely on Your Experience
Washington officials had almost no experience regulating cannabis before voters legalized it—which was a response to our governor blocking comprehensive medical cannabis regulation in 2011. But Oregon regulators have years of experience with medical marijuana. Tap your local knowledge base.
2. Don't Pay California Consultants
Because Washington regulators knew almost nothing about pot, they contracted a team of California consultants to fill in their knowledge gaps. The consulting bill far exceeded the original budget, and some of the research was questionable, like an environmental report that occasionally modified the findings of its source material while promoting outdoor growing methods over indoor pot production.
3. Don't Hold a Licensing Lottery
Washington's announcement of a lottery for pot store licenses resulted in more than 2,000 applications. Hopeful pot shop owners were allowed up to three applications at $250 each, and some tried to file twice that many to increase their odds. Regulators artificially inflated the value of such licenses by allowing a paltry 21 pot shops in Seattle (which has over 200 medical marijuana dispensaries), and many lottery players entered the game hoping only to resell a winning ticket for a handsome profit.
4. Incorporate Medical Cannabis Businesses
From pot's point of view, there's no difference between medical and recreational use. Cannabis is cannabis. And who better to sell pot to all adults than the folks now selling it to authorized patients?
5. Disallow Municipal Moratoriums
Colorado allows local jurisdictions to ban pot businesses. In January, Washington State's attorney general issued an opinion saying our cities can do the same. In many Washington cities, anti-pot politicians have overridden the will of their voters and banned a statewide law within their borders. Tell such politicians that their anti-democratic shenanigans aren't welcome.
6. Enact Reasonable Zoning Regulations
Washington's Initiative 502 disallows pot businesses from opening within 1,000 feet of schools, parks, playgrounds, childcare centers, recreation centers, libraries, transit centers, and video arcades. That is a lot of stuff to avoid, and the overwhelming majority of urban areas are restricted. In contrast, Oregon medical marijuana dispensaries are only prohibited around schools. Stick with that, and don't base critical zoning decisions on initiative polling numbers, like we did.
7. Keep It Local
Both Colorado and Washington require cannabis business owners to be state residents. But in Washington, it only takes three months to become a resident. Out-of-state entrepreneurs hope to grab a piece of Oregon's pot pie, and the stringency of your residency requirements will determine whether longtime locals or out-of-state prospectors will profit most from legal cannabis.
8. Don't Be Led Astray by Prohibition-Era Pot Players
In Washington, I-502's most vocal opponents were medical marijuana patients, led by a handful of dispensary operators, marijuana authorization clinic owners, and defense attorneys who convinced them that legalization was a ploy to saddle patients with marijuana DUIs and revoke their right to drive. Don't buy snake oil from the traveling medicine show.
9. Stop Criminalizing Youth
Youth cannabis use is a public health issue that should concern all parents, but we shouldn't run kids through the criminal justice system or court-ordered treatment programs for smoking weed. A cannabis conviction (unlike violent crimes) can result in a loss of federal student loans. Our children deserve our love and guidance, not just stigmatizing retribution.
10. Allow for Home Growing
Cannabis is a garden flower, and we deserve the right to relate to it as such. Creatures of convenience, most cannabis consumers will buy their stash at the pot shop. But those who can't afford it or who simply prefer to grow their own should be allowed a few pot plants.
---
Ben Livingston writes pot news for The Stranger in Seattle and reviews paraphernalia for the Denver Post's marijuana website, the Cannabist. A dedicated pot activist since 1995, he runs cannazoning.com and publishes the Legal Cannabis Week newsletter.