"WHERE'S THE GIRL?" I'd taken my five-year-old with me to see Monsters University—this year's winsome prequel to Pixar's 2001 Monsters, Inc.—and though he claimed he "liked all of it," clearly he did not, in fact, like "all of it."
Sponsored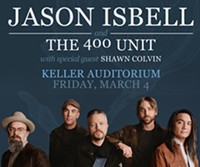 Jason Isbell has established himself as one of the most respected songwriters of his generation. Don't miss Jason Isbell and the 400 Unit, March 4th at Keller Auditorium!
He missed the character every kid watching the first Monsters movie was supposed to identify with: Boo, the little girl who bravely hitched a ride back through her closet to the secret monster world—upending, in the process, an entire monster culture built on the premise that kids are poisonous and that employing a team of professionals to scare them is the key to the monsters' survival.
That omission is by design. This time, we're all supposed to identify with the monsters, kids and grownups alike.
The charming "scarers" who crept into Boo's room in the last movie—brainy, earnest eye-blob Mike Wazowski (voiced by Billy Crystal) and his furry lug of a pal, James "Sulley" Sullivan (John Goodman)—are just entering college. They're still years from the work that brought them to Boo, and still profoundly insecure and finding their own place in the world. They haven't even figured out how much they need each other. In fact, they start off the movie hating each other.
Mike, in particular, is University's surrogate for Boo and her wide-eyed innocence. He grew up idolizing "scarers" and their signature moves, fawned over them like professional wrestlers, and desperately wants to join their ranks. He signs up for the titular Monsters University's scare program, but he's forced to face facts: He's maybe the least scary monster ever born.
Sulley, on the other hand, is a natural—the entitled son of a star. He's scary as shit. But he's lazy and utterly lacks Mike's capacity for craftsmanship. The movie's heart comes from watching them finally figure out the sum-of-the-parts writing on the wall.
Along the way, Monsters treats us to a delightful mash-up of college movie memes—culminating in a campus-wide "Scare Games" contest meant to evoke Revenge of the Nerds and Old School (but without all the boobies). Helen Mirren takes a wicked turn as the sinister winged insect Dean Hardscrabble, Nathan Fillion oozes shitty smugness as the president of the jock frat, and Sulley and Mike bond with their brothers in nerdy Oozma Kappa, played memorably by actors like Joel Murray (One Crazy Summer) and Kids in the Hall's Dave Foley.
(Monsters knows the ground it treads so well—and also knows the grownups sitting with their kids in the audience—that there's even a scene where some poor hippie monster gets his guitar smashed. Hi, Animal House!)
Humor keeps the whole thing from getting too treacly. And maybe this isn't Pixar's most amazing entry—though it looks absolutely stunning—but it's always refreshing when a monster movie comes off as more human than most of its non-monster peers.