Stand-up comedy is hard work. Not only do you have to get up on stage and try to make other people think you're effortlessly funny, but you've got to keep doing it over and over again in order to get better at it. It's exhausting and it can be soul crushing. But when it works, it's a lot like magic—for the audience as well as the performers. When a comedian and their audience are in sync, there's nothing like it. Portland's stand-up comedy scene has grown considerably over the last few years, so the addition of a new showcase is a great opportunity to see local stand-ups away from the open mic, doing material they've been working on for a while.
But Portland's move from being a town that has a handful of open mics to being one that actually has a "scene" didn't just happen on its own.
Local stand-ups Whitney Streed and Jessie McCoy are two comedians who have been active in creating and fostering the comedy community, and their new Action Comics showcase takes it a step further. Not only are they starting a new event on the last Friday of the month, they're using proceeds from that show to fund Comics in Action, a support system and training to help nurture Portland's growing scene. (Comics in Action is based at the new Action/Adventure Theatre, and will open its doors to members in early April.) Streed and McCoy are familiar faces to Portland stand-up audiences, and Streed also runs pdxcomedyblog.com. The two of them seem to spend as much time organizing and trying to grow comedy in Portland as they do working on their own material.
Action Comics, Streed and McCoy explain in a joint email, "is our chance to showcase the people who are shaping the Portland stand-up scene. There are people developing right now who you're going to see doing comedy for years to come, and Portland will be the place where they got their start.
"Stand-up comedy," they continue, "is often seen as an isolating art form. But in Portland, at least, one of the best parts is the community. Comedy in Action is a group of Portland stand-up comedians working together to create a space for our community to come together and create comedy through workshops, discussion groups, classes, and other shared resources related to stand-up."
One of the defining characteristics of the Portland comedy world is that it's not just a scene, it's a community—which is allowing stand-up to thrive and grow in ways that haven't been seen here before.
Sponsored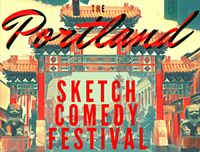 Sketch comedy troupes from all over N. America descend on The Siren Theater for 3 glorious nights.