It hasn't taken long for the Builders and the Butchers to become one of Portland's biggest—and best—bands, but milestones still lie ahead. Their long-awaited second album, Salvation Is a Deep Dark Well, has finally come out on Gigantic Music, and the band is about to embark on their first headlining tour.
It's quite a leap forward from the Builders' first appearances at the end of 2005, which were little more than busking gigs: They'd play un-amplified outside of a venue during someone else's show. "The idea with the band when we started was to play funeral marches," explains lead singer and songwriter Ryan Sollee. "We wanted to write about death and dark things—and play on the street."
The Builders and the Butchers' open-coffin stomp 'n' twang was a natural progression after Sollee moved to Portland from Alaska in 2003. "It sucks to say you outgrew punk rock, but you just start listening to other stuff," he says, "and I was just reaching that age. At the same time I started playing with a friend who's really into pre-1960s American music, and I loved it, and started writing songs in that same vein. We try to be as much of a rock band as we can, but—just playing those instruments...."
Those instruments are primarily acoustic ones—Sollee's guitar, Harvey Tumbleson's mandolin, Alex Ellis' acoustic bass—but it's the dual drum setup that makes the Builders utterly unique. Ray Rude and newcomer Brandon Hafer sit side by side, locked into tandem patterns over toms and a booming bass drum. Rude developed the style with founding member Paul Seely, who departed the band earlier this year. "Basically, Paul just decided that he did not want to be on the road as much," says Sollee. "We're very, very sad to see him go. But Paul's gonna play on a bunch of songs at the release show just 'cause he wrote all those parts."
Salvation Is a Deep Dark Well was actually recorded back in April 2008. It took a while to find the right label to release it, an extended process that frustrated the band but eventually worked out for the best. "The natural progression just got, like, slowed down by about six or eight months," says Sollee. "It's weird to have such a long reflection period. But it's still exciting to have it be coming out and just to see if people will like it or not. Our first album was very live, and this album was a lot more piece by piece."
Chris Funk (of the Decemberists and Blue Giant) approached the band last year to ask if he could produce its next album. "I was, like, you know, of course!" laughs Sollee. Funk's methodical approach of calculated experimentation—not to mention his breathtaking string arrangements—gives Salvation a full range of sound that breaks open the Builders' early template. The album opens with the haunting "Golden and Green," a thunderous chain-gang dirge that becomes a hailstorm of rapid strumming. Meanwhile, "Barcelona" incorporates mariachi horns, while "The Wind Has Come" is the Builders' first ballad, a sorrowful, string-laden meditation on nature, lost love, and (what else?) death.
"That [song] was one of the nicest surprises about the whole thing," says Sollee. "The last thing I'd like to happen is be pegged as a hokey bluegrass and blues band, where that's all they do."
Sponsored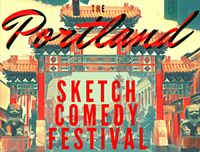 Sketch comedy troupes from all over N. America descend on The Siren Theater for 3 glorious nights.