IT'S A MYSTERY why Ted (voiced by Seth MacFarlane) exists. A talking teddy bear brought to life by a lonely little boy who wished upon a star, Ted became a minor celebrity, appearing on talk shows and the cover of Rolling Stone, but never forgot his best friend, with whom he huddled under the covers during thunder storms. He grew up with the boy, John (Mark Wahlberg), until they both became beer swilling, bong ripping, fast-cussing Bostonian men. The rest of the world, meanwhile, kind of forgot about them.
Ted the movie exists primarily for the comedic fun of an adorable but dirty teddy bear who hires prostitutes (one of whom shits on the floor on a dare), sings cocaine-fueled karaoke, and fights—an extended hotel fight scene being the film's finest moment. Sure there are things to keep the characters occupied: Ted fills in the bad-influence friend role in the old rom-com saw about the girlfriend (Mila Kunis, perpetually the guy's gal who laughs at fart jokes and drinks beer) waiting for her man to grow up. There's the creepy dude (Giovanni Ribisi) and his sadistic son (Aedin Mincks), who stalk Ted, lurking around menacingly. But that's all window dressing meant to bolster the hijinks of the tough-talking, blonde-boning teddy bear.
As such, Ted has its moments. Wahlberg is easily matched by his plush co-star's comedic timing, and while uniformly aimed at the gutter, a fair number of the jokes stick their landing. The film's whimsical premise also manages to attract a respectable number of cameos, from Norah Jones to Sam Jones, plus a moment from Tom Skerritt and two from Ryan Reynolds. On the other hand, in its effort to push the envelope, the humor occasionally veers into awkward racial territory—horny, stoned teddy bear is funny, racist teddy not so much.
It might be advisable, then, to get your hands on some of what Ted and John spend a fair amount of their time smoking before embarking on this particularly odd journey, because chuckles are the only thing Ted has to work with. Best not worry about why it even exists.
Sponsored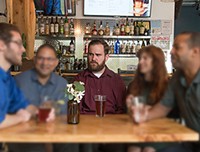 Adults aged 18-35 with good hearing will be paid for their time. Located at the Portland VA Medical Center