WITH WILLOW JADE, running this weekend as part of the Fertile Ground festival, Portland Playhouse joins the Trek in the Park crew in catering to what appears to be a permanent and deep-rooted part of our civic psyche: a willingness to wallow in some really geeky shit. Willow Jade's proud declaration of nerdery? "There is no substitute for authentic role-playing."
Sponsored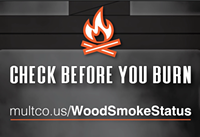 Having clean air means reducing wood smoke. Check before your burn from October 1-March 1.
Doug (Patrick Oury) is a mopey D&D fan who's just moved back home from Seattle after failing in his attempt to become a professional Dungeon Master. He returns to find that his mom has rented out his apartment to a couple: middle-aged Clinton (Ben Plont) and Clinton's much younger girlfriend... or cousin... or something, a pretty girl named Willow Jade (Lincoln high schooler Jazzi Mason).
Basement-dwelling nerds are a cliché because they exist, and Hunt Holman's script comes near to betraying some tenderness for characters who turn to escapism because they're unhappy with their lives. But we're not quite allowed to pity Doug and his friends—that'd be no fun at all, and Willow Jade is, first and foremost, a lot of fun. Patrick Oury is hilarious as Doug, resisting the temptation to play his hapless nerd character as a straight Napoleon Dynamite knockoff (although one can see the effort it costs him, at times). The script reveals a familiarity with the world of American cheese sandwiches and 20-sided dice, and Portland Playhouse embraces their inner nerds with costume flourishes like a Hulk backpack and Return of the Jedi T-shirt.
Whether a satirical nod to the romantic ineptitude of your stereotypical nerd, or a manifestation of said ineptitude on the part of a presumably fairly nerdy playwright, the show does run into female trouble: Doug suspects that Willow Jade is actually a high school girl who ran off with her best friend's dad, leading to a whole lot of speculation about (A) which of Doug's band of loser friends has slept with Willow and (B) whether that makes them statutory rapists. (This subplot was particularly weird at a recent Sunday afternoon, when a group of girls from Lincoln were in the audience.) In addition to an underaged hottie, Holman gives us a bitchy-and-kinda-slutty mom, and a slutty-and-kinda-bitchy wife, neither of whom are given half the depth of the show's male characters. Such objections pale, though, in comparison to the epic, bloody, and hilarious orc battle that concludes the show—feminist objections aside, sometimes you just gotta go with it.
Other shows in the Fertile Ground Festival this week; see fertilegroundpdx.org for tickets.
SexyNurd and Tandem—Two back-to-back comedy shows; the first about a nerd with rock star aspirations, and the second, a comedic exploration of a relationship from the co-founders of Curious Comedy. Curious Comedy Theater, 5225 NE MLK, Fri & Sat; SexyNurd at 7:30 pm, Tandem at 9 pm, $15/show
bugged (a shadow play)—A shadow puppet show drawn from science fiction, graphic novels, and silent movies. Presented as a double feature with Theory 1: Dance's light that lingers. Blackfish Gallery, 420 NW 9th, Sat Jan 30, 8 & 10 pm, $12
Carnies: A Musical Work in Progress—A musical about the history of the traveling carnival, presented by Action/Adventure (with a cast that includes Mercury Food Editor Patrick Alan Coleman). Someday Lounge, 125 NW 5th, Sun Jan 31, 8 pm, $7