JOSEPH IS not exactly an easy guy to watch, let alone love. In the first minute of Tyrannosaur, we watch him drunkenly kick his dog so hard that the poor animal needs to be put down—a job that Joseph administers himself with a cricket bat. Slouching around in track pants in some depressed, depressing town in the English Midlands, Joseph (Peter Mullan) is drunk more often than not, trying to squelch lingering memories of his dead wife.
Now, Joseph didn't mean to kill his dog, and he's not even the most despicable character in Tyrannosaur. That honor goes to the truly nasty James (Eddie Marsan); when we first see James, he's urinating all over his sleeping wife, Hannah (Olivia Colman). James goes on to do far, far worse things to Hannah—I'll just say that if the idea of a dog being kicked to death renders you inconsolable, you're gonna have a really rough time at Tyrannosaur, the feature-length directorial debut from British actor Paddy Considine, and an expansion of his 2007 short film Dog Altogether.
Yes, Considine has made a very difficult film to watch, but he's also made a very good one, fueled by stunning performances by Mullan, Marsan, and, in particular, Colman—her Hannah is an absolute frayed nerve, anchored by religion and inherent kindness but cornered into an unholy, unbearable situation. Joseph and Hannah find unlikely solace in one another, but Considine is careful never to let something as predictable (or unlikely) as romance bloom under these incredibly bleak circumstances. Rather, he depicts these two irretrievably damaged people as they actually would behave around each other—skittish, scared, lonely, and at times necessarily monstrous. In doing so, Considine finds the truth of his characters, buried underneath all that baggage. It's a beautifully ugly thing to see.
Sponsored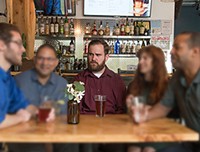 Adults aged 18-35 with good hearing will be paid for their time. Located at the Portland VA Medical Center