THE OREGON Liquor Control Commission (OLCC) is a powerful entity. The agency controlled $1.11 billion in alcohol revenue in 2013-2015, and its leaders are making final adjustments to 77 pages of rules that will govern how Oregonians obtain and consume their legal weed.
Sponsored
Sketch comedy troupes from all over N. America descend on The Siren Theater for 3 glorious nights.
The OLCC's leader—Commission Chair Rob Patridge—has been in the news for more than his role in crafting pot policy. When former Oregon "pot czar" Tom Burns was fired in March, rumors circulated that a personality clash between Burns and Patridge had played a part in the decision, though OLCC Executive Director Steven Marks denied it. At the time, spokesman Tom Towslee said Burns' termination was "largely self-inflicted," and that he'd lied about giving a document to a pot-industry lawyer ["Puff, Puff, Send," News, June 10].
Now Patridge, who also serves as the Klamath County district attorney, is facing allegations of impropriety of his own. And he risks becoming wrapped up in a minor scandal that's rankled the rural Southern Oregon county of 65,500.
Last month, the Mercury has learned, Klamath County Deputy District Attorney Sharon Forster accused Patridge of doing nothing when she complained that Klamath County Sheriff Frank Skrah had sexually harassed her—allegations that would later prove true.
Worse, Forster says Patridge robbed her of responsibility when the sheriff filed his own complaints.
The allegations come in an October 12 tort claim notice naming Patridge, the State of Oregon, and Klamath County as potential defendants, and alleging "unlawful employment practices."
A tort claim notice isn't a lawsuit, and the person who submits one isn't obliged to prove his or her case. But by filing the notice, Forster is giving required warning that she has enough of a case to file a lawsuit.
The Mercury, through a public records request to the Oregon Department of Administrative Services, received a copy of the tort claim notice, filed on behalf of Forster by Portland-based attorney Judy Snyder. Snyder, Patridge, and Forster did not respond to calls for comment.
The drama Forster depicts started in August 2014 when she made a formal complaint to Patridge claiming Skrah was making "sexually inappropriate comments." An investigation by the county ultimately substantiated the complaint, according her tort notice.
Skrah's since got himself in a mess of other trouble: In September, a grand jury indicted the sheriff on nine counts completely unrelated to Forster's accusation. The Oregon Department of Justice in April launched an investigation into allegations Skrah used excessive force against three suspects in three separate incidents. He's been charged with harassment, official misconduct, attempted assault, assault, and strangulation.
The day after Forster complained to Patridge about Skrah's comments, the sheriff and an unnamed department head submitted their own complaints about Forster's demeanor.
Forster says the complaints from Skrah and the department head were retaliatory, and alleges that Patridge seemed to take the sheriff's complaints more seriously than his own employee's. After Skrah complained, Patridge removed Forster from the major crimes team and told her not to communicate with Skrah. Forster—who's been a deputy district attorney in Klamath County since 2002—says the move interfered with her ability to prosecute cases.
The tort notice says that in September 2015, Patridge formally reprimanded Forster for something (the notice doesn't say what) that happened three months prior and, during their meeting, warned Forster not to file another complaint against Skrah because "it would result in another complaint being lodged against" her.
"Ms. Forster understood from Mr. Patridge's warning that she would be subjected to another complaint, which could lead to her termination, if she insisted on complaining against Sheriff Skrah again," the tort claim notice reads.
According to the timeline Forster paints, that warning would have come right when a grand jury was getting ready to indict Skrah.
Forster's alleging an "ongoing pattern and practice of retaliation" and the tort notice warns she may seek damages for economic and compensatory damages as well as her attorney fees.
Read the tort claim notice in its entirety by clicking here.
Sponsored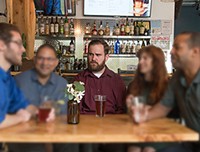 Adults aged 18-35 with good hearing will be paid for their time. Located at the Portland VA Medical Center