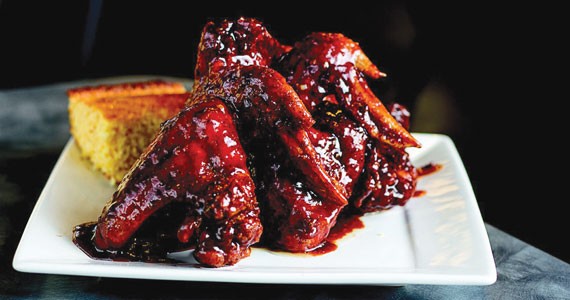 FRIED CHICKEN, in all its crispy glory, is my favorite food ever. And my favorite fried portion of the fried chicken? The wings. They're perfect. Those tiny appendages, barely able to send a bird skyward, offer up succulent white meat encased in the highest skin-to-meat ratio you're going to find. Brine them, bread them, deep-fry them, and coat them with tasty sauce, and you've crafted carnivore heaven.
What's important in this roundup is that the wings have excellent flavor, they're not too greasy, and there's some meat on them bones. Not included are places that attempt to sell drumsticks as wings (I'm looking at you, Lonesome's Pizza). Those are not wings.
I've culled seven contenders, made up of local joints and famous chains. My expert opinion of their quality, ranked best to worst, is as follows (and since wings are everywhere and I am not, feel free to tip me off to other places!):
1. Pok Pok (for locations, visit pokpokpdx.com)
God bless Andy Ricker for Ike's Vietnamese Fish Sauce Wings ($14.50 for six). The man has elevated what is often viewed as base bar food to a new level, marinating whole, natural wings in funky fish sauce and sugar before deep-frying them and adding even more fish sauce to the mix. They're stinky, they're messy, and they're goddamn delicious. You probably already know this. But these wings are famous for a reason.
2. Fire on the Mountain (for locations, visit portlandwings.com)
This is the city's quintessential wing restaurant for a good reason. They might cater to the same fratty crowd as Buffalo Wild Wings, but the bros who hit FOTM clearly have better palates. I'm a sucker for the standard Frank's Red Hot-based hot buffalo sauce, which sets my tongue to tingling but doesn't overwhelm it, allowing me to consume maximum wings. They make their sauces in-house daily, and the meat isn't pumped full of saline and shipped frozen from Arkansas. It's what Portland stands for: basic comfort food jazzed up and done with quality ingredients.
3. Crown Q Market & BBQ (445 NE Killingsworth)
Just biking past this mini-mart's purple awning and pink pig barbeque out front sets me to salivating. Crown Q sells natural meats and boasts a shockingly large selection of Bob's Red Mill products—and just murders BBQ sauce wings ($7.50 for three whole wings). Their wings are substantial, coated in a tangy BBQ sauce and lightly crisped from the fryer. They also do a fried wing ($6 for three whole wings), but I'm not about wings that don't have sauce. They'd take second place if they had more sauce options.
4. TIE! NePo 42 (5403 NE 42nd)
First they smoke them. Then they fry them. The first bite is mostly spicy house-made sauce, in which these wings are amply doused. But underneath, there's that smoky meat goodness. They're $6 for six, and less during Blazers games. I like NePo 42 a whole lot overall, and the wing action isn't hurting the cause.
4. TIE! Double Barrel (2002 SE Division)
With six sauces, I appreciate the seriousness with which Double Barrel takes its wings. They're meaty, and an order of six ($7) goes down all the better when you're sitting near the bar's really impressive collection of antique guns. The wings are covered in a bourbon BBQ sauce that's slightly sweet at the finish—which I liked, but was off-putting to the purists. I'll be back soon to try the "Portland" sauce, a mix of Marionberry and habañero.
5. Spirit of 77 (500 NE MLK)
There's nothing better than some good sportsball action when you wing out. Plus, you can get your red, greasy fingers all up in their free foosball and basketball hoops. The wings here just are. Their sauce is very identifiable as Frank's Red Hot, and you can get a whole mess of 'em for $11. Would I order them again? Yes. Would I make a special trip for them? No.
NOT RECOMMENDED
Buffalo Wild Wings (for locations, visit buffalowildwings.com)
You know the drill. Lots of TVs. Lots of wings. They may have many of the same flavor combinations as Fire on the Mountain, but without the love. The buffalo hot wings were fine. The parmesan garlic sauce tasted like store-bought garlic bread vomited on poultry. Pass.
Hooters (11875 N Jantzen)
I didn't want Hooters to be last. I really didn't. I wanted to discover their wings were amazing and make it my thing to hit the Hooters on the regs and enjoy my chicken in an all-chauvinist environment (it'd be the food version of reading Playboy for the articles!). Alas, the wings are scrawny, sad, and bland, just like the guys in there. Super pass.