WHILE "DISTILLERY ROW" is still a concept in the making, the roughly half-mile stretch in Southeast Portland from House Spirits Distillery (2025 SE 7th) to Highball Distillery (610 SE 10th) includes five shops producing everything from whiskey to absinthe. As we move into the colder seasons, activity in the distilleries is heating up with some new releases in the near future.
House Spirits Health Care Plan
I've always been a proponent of booze as medicine. Headache? Booze. Head cold? Booze. Crippling depression and social anxiety? Booze with a chaser of booze. As far as I'm concerned, the rigorous application of medicinal alcohol has only made me more robust and handsome.
Should you also be pursuing what I like to call the W.C. Fields Health Initiative, it would be difficult to find a better dispensary than the House Spirits Distillery, which late last year launched their Apothecary series. The idea was to release limited-edition batches of spirits—outside their main lines of Medoyeff Vodka, Krogstad Aquavit, and Aviation Gin—that would allow them to explore more styles and stretch their creativity.
Available from their old-timey tasting room adjacent to the distillery (and select area liquor stores), the batches are sold in squat, numbered, 12-ounce bottles, with a run of no more than 1,000 (and often much less), for $20 a bottle. So far there have been just two releases: a big anisette-hued Oregon Ouzo with plenty of spice and just enough sweetness, and a very respectable rum.
Co-owner Lee Medoff considers the Apothecary line a way to give back to the city that helped launch one of Oregon's most successful micro-distilleries. "It's for the local market, specifically," he says.
The next couple of months will see House Spirits releasing three more spirits for the limited line. The first, released this month, is Gammal Krogstad Aquavit. Gammal is House Spirits' Krogstad Aquavit that has been aged for a year in a French oak wine barrel that previously held pinot noir. The barrel has the effect of tempering the brightness of the Krogstad, amplifying floral notes up front and adding tones of honey. Distiller Matt Mount explains it's similar to original Scandinavian aquavit, which would often be barreled for transport.
Saturday, October 24, will see the release of House Spirits' shochu. A recent phenomenon in Portland's cocktail world, shochu is essentially a Japanese spirit distilled from saké. House Spirits' shochu is distilled from saké made by SakéOne, "the world's one and only American-owned saké brewery." Considering its Forest Grove source, the limited run of House Spirit shochu will be the first pure Oregon shochu ever produced. Distilled from SakéOne's Peaceful River, Medoff describes it as having a "bigger, more aggressive, Northwestern pale-ale attitude." That is to say it's not as polite as many Japanese shochus, which have a tendency to be very light and clean. Finally, December brings a release of House Spirits' whiskey. After just under three years in new American oak barrels, the whiskey is much anticipated... at least, by whiskey lovers like me. Expect it to go quickly.
Each release will coincide with an evening of celebration. The shochu release on October 24 will be held at Biwa and include a cocktail hour followed by a ticketed dinner. The as-yet-scheduled whiskey release in December will begin with cocktails at Beaker and Flask and progress to the Simpatica dining hall. Keep an eye on Blogtown for more details.
If you're anxious about missing a dose of this small-batch artisan "medicine," the folks from House Spirits have created an Apothecary Club. A $75 membership will include invites to special dinners and dibs on exclusive Apothecary releases.
New Deal Does Chocolate
"'Flavored vodka' is such a fucking awful phrase," says Tom Burkleaux of New Deal Distillery. That's why his chocolate vodka, Mud Puddle, which will be released in a month or two, will likely not carry that label.
Another reason Mud Puddle shouldn't be considered "flavored" is because the cacao is added before distillation, instead of afterward. The effect is that the chocolate becomes a distinct part of the vodka. Mud Puddle starts with big cacao tones, but it lacks a sweetness that would too easily steer it into "flavored vodka" territory. In that way it's much truer to chocolate's cacao bean roots.
After the palate-filling chocolate hit, Mud Puddle elongates and warms. The sensation is like drinking unsweetened hard hot cocoa. Burkleaux has a better way of explaining the flavor. "It's almost home-style," he says. "Like we were making a liqueur but we just decided not to add sugar to it."
Mud Puddle will add another distinct vodka to New Deal's vodka line, which currently includes Portland 88 Vodka, New Deal Vodka, and the eye-popping spicy pepper vodka Hot Monkey, but New Deal is also working on a gin to be named Clawfoot.
The plan is that Clawfoot (as in bathtub) will be an organic gin distilled from local ingredients. Currently, they're experimenting with simple gins made from distilled base spirit and juniper, period. Their two prototypes, gin #1 and gin #2, are startlingly different, especially considering that the main difference between the two is the design of the still.
Gin #1 has an expansive airiness and a distinct drying quality on the palate. The juniper notes are aggressive and pronounced, though not unpleasantly so. Gin #2 is much more mellow, with rounder juniper notes expressing more of the plants piney characteristics.
If these "primitive" gins are where he's starting, it'll be interesting to see where Burkleaux and his crew ends up when their Clawfoot hits the market in the future. As it stands, Burkleaux plans to offer bottles of gin #1 and gin #2 at the New Deal Distillery's ephemeral tasting "room." Tipplers anxious to get a sip of Mud Puddle can also belly up to the tasting-room bar and sample the unreleased vodka.
The New Deal tasting room (1311 SE 9th) is open Saturdays from 12:30 to 5 pm.
Changing of the Cocktail Season
As seasons change, so do cocktail lists. Bartenders Kelley Swenson of Ten 01 and Kevin Ludwig of Beaker and Flask have kindly offered Mercury readers a sneak peek at cocktails soon to cross their bars.
While damson plums are often made into slivovitz, who really wants to drink the stuff? Kevin Ludwig offers a better way to get the fruit and alcohol into your system.
The Comb Over
2 oz. Aviation Gin
3/4 oz. lemon juice
3/4 oz. damson plum syrup (see instructions)
1/2 oz. Cointreau
3 dashes Regans' Orange Bitters
pinch of cardamom
To make the plum syrup, split a cup of damson plums (they're small) and add to a pot with two cups of sugar and one and a half cups of water. Cook until the plums break down and the mixture becomes soupy. Remove from heat, let cool, and strain through cheesecloth. Add to the rest of the ingredients, shake, and strain into a cocktail glass.
Fall means the start of spiced wine season, but often the preparation is too much work. Kelley Swenson has learned that adding bitters to red wine creates a spiced wine effect, quickly and simply. Add spices, sloe, and gin, and you've got a perfect fall cocktail.
The City Solution
1.5 oz. Old Tom Gin
1/2 oz. sloe gin
1/2 oz. simple syrup
1/2 oz. fresh-squeezed lime
2 dashes Angostura bitters
1/2 oz. red wine
1 stick cinnamon
In a cocktail shaker or mixing glass, add Old Tom Gin, sloe gin, simple syrup, lime juice, and Angostura bitters to ice and shake until cold. Strain over fresh ice and float red wine and cinnamon stick as a garnish. The drink is presented in two-tone red with the dark red wine floating on top, but should be stirred before consuming. The cinnamon resides on top as garnish.
Sponsored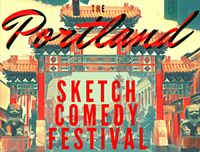 Sketch comedy troupes from all over N. America descend on The Siren Theater for 3 glorious nights.