WHEN A BAND decides to leave their hometown, take their project to more fertile environs, and pile into the same house to live together, it's probably best not to be coy about your motivations.
Sponsored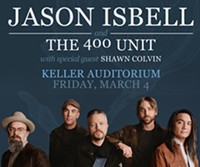 Jason Isbell has established himself as one of the most respected songwriters of his generation. Don't miss Jason Isbell and the 400 Unit, March 4th at Keller Auditorium!
"I think the big goal is to grab someone's attention who has the ability to project us to greater heights and put us in the ears of more people," says Minden vocalist and primary songwriter Casey Burge.
So it is with Minden, a six-piece stoner-soul crew that's brimming with droopy-eyed, dance-ready panache and scruffy charisma. During a recent visit to the band's new Northeast Portland home—dubbed Minden Manor—the band wore their ambition on their sleeves. Luckily, they've got the chops, the sexiness (in the form of glittery spandex, mustaches, and lots of melody), and the sense of humor to back it up.
The band moved from Kansas City in June, but they've already played a handful of shows here. After releasing two seven-inches back home, they arrived in Portland armed with a completed debut album, Exotic Cakes. In Kansas, the band was selling out shows at an increasingly narrow batch of venues, but hit the ceiling regionally. It was time for a change in scenery.
"Our plan was to move away from our hometown and bank on a miracle," says Burge. "It's a leap of faith, where you can either be rewarded or you can totally fail."
Exotic Cakes ought to bail the band out of any pessimism about their move. The album's silky smooth caress of trippy funk and solid-gold pop is deceptively honest—and polished to the point of glam on invigorating cuts like "This Whole World Loves Me" and "Gold Standard."
With the record's release and upcoming shows booked, Minden can't afford to look back now. Besides, they're visibly excited to be taking root in a new city.
"People kept asking us, "Why would you move to Portland?" says keyboardist Dan Talmadge. "We say that a lot of times when we're on a hike or somewhere totally beautiful, or we book another cool show: 'I'm just wondering (sigh) why would anyone wanna move here?'"
"The BBQ around here is kind of weak, though," adds Burge.