PORTLAND LOVES Ron Funches. The disarmingly sweet comedian recently had a great set on Conan and is becoming known well beyond Stumptown. Unfortunately for us, Funches is moving to Los Angeles next week—before he goes, he's doing one last show with Funny Over Everything. He chatted briefly with us about his plans and what makes the Portland comedy scene so damn great.
Sponsored
Sketch comedy troupes from all over N. America descend on The Siren Theater for 3 glorious nights.
MERCURY: So you're moving to LA! Why there, now?
RON FUNCHES: I've been planning on moving to LA for quite some time. At some point you have to try your hand if this is going to be your career. It's either New York or LA in the end, and I have more friends and family and support in LA.
What's the plan once you're there?
I'm going to take some acting classes and further work on developing my stand-up skills. I hope to tour more and maybe open for a great headliner on an extended tour. I'll probably just get my medical card and smoke all day with Richard Bain, though.
What will you miss the most about Portland?
My friends. We are lucky to have such great comics here who are also great people. Hanging out with them at Ganja Jon's talking about our dreams is what I'll miss the most.
The least? Nothing. I love this city. It made me a comedian.
Portland's comedy scene really seems to be taking off right now. Do you agree that there's something special happening here?
It is very special. It happens when people do art for the love of it. Before Bridgetown, before Helium, we were all doing it because we love it, and it shows.
With your son and your friends here, can folks expect to see you visiting once in a while?
Of course. I love it here. I just want to take a plane to get here now, it makes me feel opulent.
Any parting words for fans, friends, and total strangers who might happen to read this interview?
Enjoy the rare amount of talent that you have in this town before they all move away. It is a special time.
Sponsored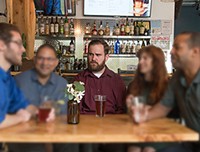 Adults aged 18-35 with good hearing will be paid for their time. Located at the Portland VA Medical Center