If you make it your business to attend readings in Portland, you've probably come across one of Housefire publishing's bacchanals, or seen one of its founders reading at our many local events. Started in January, Housefire is already responsible for chapbooks, readings, a pretty happening Tumblr, and on Tuesday, August 23, its first book, Nouns of Assemblage.
Sponsored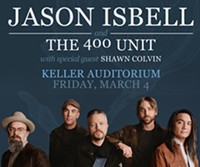 Jason Isbell has established himself as one of the most respected songwriters of his generation. Don't miss Jason Isbell and the 400 Unit, March 4th at Keller Auditorium!
As editor Riley Michael Parker tells it, Housefire spawned as a side project to a literary magazine Parker helps edit, Metazen. Curated by Frank Hinton, Metazen introduced Parker to new abstract and absurdist writers. With Hinton's blessing, Parker began soliciting fiction from his favorite writers to publish on his own offshoot, Housefire, which quickly grew to become the upstart publisher now taking form.
The basic model is unique. While writers are free to contact Housefire and share their work, all projects associated with the publisher are solicited. The editors are most interested in pushing writers outside of their comfort zones to create more provocative work, which fits with the atmospheric, experimental bent of its founders. Not all solicited work is published, but Parker and his cohorts work closely with writers, workshopping stories into publishable shape whether they run it or not.
The resulting work is impressive. Nouns of Assemblage evolved from an unfinished gallery project into a short-story collection. Prompt subject structures the book; contributors were given only story titles—nouns—to work with. The theme is creatures: mammals, reptiles, bacteria, etc. Considering that the stories have little to do with one another, the overall structural and stylistic integrity is astounding. The book contains over 60 whirlwind stories, some as short as three sentences, but each one thoughtful and considered. Readers will find a host of familiar names from the small-press stratosphere; locals Matty Byloos, Colleen Rowley, Kevin Sampsell, and Carrie Seitzinger are featured along with the likes of Jamie Iredell and Matthew Simmons.
Nouns of Assemblage is a book of ideas. Some are fables, some are sketches, and some are perfect exercises. Nothing is sentimental, though many of the stories are touching. There is also a menace, a recklessness to the collection. Each section trends towards violence and darkness, assault and death, or ugly and inquisitive sex, before veering into calmer, more reflective waters. It's hard to zero in on one piece when you're in the midst of a menagerie of horrors and wonders, but every now and then a story will stop you in your tracks and hold your breath.
That reading experience is a testament to good editing and consideration. Aside from Parker, web master and reigning X-rated haiku champ (which is a real thing and his haikus are wonderful) Rob Gray and Lindsay Ruoff, their chief designer, are dedicated to putting out quality literature. Nouns of Assemblage will be distributed mainly online through their website and Amazon, as well as in local bookstores; the August 23 release party will feature a handful of contributors including Kevin Sampsell and Carrie Seitzinger.
The release date hardly marks a period of rest for the enterprising trio, however. Parker is preparing to release his first novel next month through Lazy Fascist Press, while also editing The Alphabet Book, another concept-driven collection though Metazen.