IN THE PAST, Pickathon's non-musical entertainments have been limited to witty emcees and impromptu hula hoop displays. ("Entertainment" at a festival where lots of people don't wear shoes is very broadly defined.) This year, the weekend-long music festival's schedule includes a foray into other realms of performing art, with a collaboration between three festival musicians and solid local company Portland Playhouse.
The Pickathon production of Twelfth Night sees three musicians taking on the role of Feste, the play's fool—Laura Gibson on Friday, Bruce Molsky on Saturday, and Casey MacGill on Sunday. The show's been trimmed to a breezy hour and 15 minutes; co-director Brian Weaver says the aim was to stage the play "more like a music show." The musicians will each provide their own music for the songs of Feste (they won't, however, have any actual lines), and each day's performance will vary depending on the musician's interpretation of Feste's famously mournful lines: "When that I was and a little tiny boy/With hey, ho, the wind and the rain/A foolish thing was but a toy/For the rain it raineth every day."
The show's streamlined, festival-friendly runtime represents a paring down of the script, but no major changes. "We cut the play, but have not adapted, added, or changed anything," explains Weaver. "We cut text, but left all the music. All the plot lines, characters, and scenes remain (just shorter)." In addition to the musicians, the Portland Playhouse ensemble includes actors Darius Pierce, Sean McGrath, Val Landrum, and Chris Harder.
Sponsored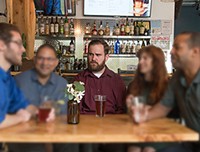 Adults aged 18-35 with good hearing will be paid for their time. Located at the Portland VA Medical Center