WALKING TOURS that tell the history of Old Town/Chinatown. A retrospective concert and museum exhibit dedicated to Portland's music scene from the 1930s until the present. Publications like the popular Oregon History Comics and an upcoming comics biography of former Oregon governor Tom McCall. All among the varied projects helmed by Portland history 'n' activism nonprofit the Dill Pickle Club.
Sponsored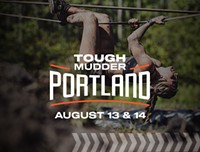 Lock in your summer adventure, Portland. Join us for world famous obstacles over a 5K or 10K distance.
So... what does any of that have to do with pickles?
"We're really tired of answering that question," says Pollyanne Birge, one of the three-member staff that works out of the nonprofit's tiny office in Union Station.
Portland's Dill Pickle Club has been around since 2009. The group's name pre-dates the home-canning frenzy in which our city currently finds itself—it's named, in fact, for a Depression-era, Chicago-based arts and culture center that inspired DPC Executive Director Marc Moscato to create something similar in Portland.
But as the organization completed a recent strategic plan to refine and shape their mission—a plan that strengthens its extant focus on lectures, school programs, tours, and publications—the name increasingly seemed a hindrance. These days, Portland has actual pickle clubs, and Moscato and his organization have decided its time for a name that more accurately reflects their organization. So after plenty of fretting over options, the Organization Formerly Known As the Dill Pickle Club settled on a new name.
...and I can't tell you what it is. I can tell you, though, that "Dear Portland Club" didn't make the cut—the DPC initialism will be retired for good.
The organization's new name will be announced at the Perfect Pickle fundraiser on Tuesday, February 12, an annual event, hosted this year by AC Dickson, in which local chefs compete to create the best pickle as determined by a panel of celebrity judges. The audience, in addition to pickle snacking, will be treated to live music from the Woolen Men and presentations about some of the organization's upcoming projects.
As I sat in the Dill Pickle Club's offices a few weeks ago, there was a surprise visit from none other than former Portland Mayor Bud Clark. He'd been downstairs at Wilf's Restaurant, trying out the Reuben, and he thought he'd pop his head in to say hi to the Dill Picklers. It was a completely unplanned visit, the overlap with our interview a pure coincidence, but it couldn't have been orchestrated better: Whatever they choose to call themselves, this is an organization with strong ties to Portland's past, and they've got big plans for our future.