LOCAL POETRY PRESS Bedouin Books brings to mind the chicken-egg conundrum of book publishing: If a writer doesn't have an agent, it's hard to get a manuscript in front of an editor, and without a book—preferably a commercially successful one—it's difficult for a writer to attract the attention of an agent. That's why stories like that of local poet and educator M. D'Alessandro, founder of Bedouin, have become more and more common.
"I started Bedouin Books as a vehicle to publish my own poems and writing into pamphlets that I would peddle around San Francisco, and get placed on consignment in independent bookstores," D'Alessandro writes in an email. Soon after, he started a literary journal and "fell in love with the idea of publishing other writers' work."
Nowadays, D'Alessandro's Bedouin publishes chapbooks, pamphlets, and various nontraditional printed objects. The mission of the press is straightforward: "Bedouin Books' publishing philosophy is to give emerging writers legitimate, quality collections of their work in bound form as a springboard to their careers, publishing credit, as well as something they can sell."
Maybe it goes without saying, but a springboard is only as useful as the poems it's made from, which leads to the work released by Bedouin Books.
From the first lines of John Sibley Williams' Autobiography of Fever, "OK, so/the metaphor is truth/unquestionable," a meta-poetry (poetry about poetry) strain is established. The poems are more head-in-the-clouds than feet-on-the-ground. Abstraction is elected over the concrete substance of daily life, philosophical exploration over the ways in which those philosophies are applied. The metaphors, the self-described truths of the work, pile up; helium-filled balloons escaping unnamed hands to drift upward and pop in the sky's high places.
Coleman Stevenson's debut collection, The Accidental Rarefication of Pattern #5609, is a bit more linear, with roots in the physical world. For instance: "a film of decomposition sped forward/appears to reanimate a dead thing/the body of the little fox frantic with ants,/the saprobic swell of hydrogen and nitrogen,/that nods the head and wags the tail again." But it's not all dark, decaying things; it's also "the animatronic pigeon's lack of a past" making it "perfect"—moments that reflect the careful unpacking of experience.
In addition to Williams and Stevenson, George Marie will read from Dismember, an upcoming Bedouin release. Of the aforementioned titles, D'Alessandro says he hopes "readers will walk away with a sense that the writing... is important... a harbinger of the future of publishing." With the champagne overflow of endless internet, it's a tall order, but I'll raise my glass and wish him luck.
Sponsored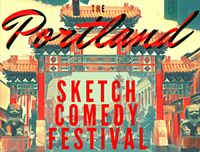 Sketch comedy troupes from all over N. America descend on The Siren Theater for 3 glorious nights.