IT'S BEST not to overplay the hand that God dealt you. Perhaps, for example, you were born handsome—blessed with a perfect storm of circumstance and self-confidence, such that you become the kind of person that can go through puberty on a successful sitcom. Perhaps your feminine, non-threatening adolescent sexuality affords you an inordinate amount of goodwill from an audience of teenaged girls, whose hormonal residuals subsidize your unlikely promotion from child actor to bona fide millionaire movie star. Perhaps it turns out that you can actually hold your own out there in front of the camera, that you can actually act—even if it is in a non-entity sort of way, from behind chillingly cavernous, hollow eyes. (Perhaps you have chillingly cavernous and hollow eyes.) It's here where it might be sensible to take a step back and acknowledge your many improbable fortunes and simply be contented in them. Let's not get carried away.
Look, I'll concede that Joseph Gordon-Levitt has earned the right to direct a modest, low-stakes indie flick, and that's precisely what Don Jon is: the story of a simple, porn-addicted Jersey guido (JG-L), who thinks he's found love in the club with a calculating, narcissistic guidette (Scarlett Johansson) who isn't crazy about his extracurriculars. (Think Steve McQueen's Shame with jerk-off jokes.) As writer, director, and star of Don Jon, Gordon-Levitt's auteur ambitions here are evident—and while the film isn't a total disaster (the acting and direction are both serviceable), it's clear that his hollow, cavernous eyes are significantly bigger than his stomach. With a condescending script that shows a complete lack of sympathy for (or even interest in) its characters, Gordon-Levitt seems almost contemptuous of the petty and monotonous lives he's created. An underused Julianne Moore, reprising her time-honored role as Oedipal Complex Personified, is the only emotionally relatable character the film musters—and even she's basically a two-dimensional plot device.
Don Jon is an object lesson in overextension—of ambition and self-belief outstretching experience and aptitude. Not everyone was meant to be a triple threat; don't go getting greedy.
Sponsored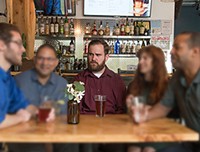 Adults aged 18-35 with good hearing will be paid for their time. Located at the Portland VA Medical Center