TED WHEELER and Jules Bailey had spent the better part of an hour wooing a crowd at Rontoms on January 20 before the assembled drinkers got any indication there are other people in the race to be the next mayor of Portland.
After Wheeler and Bailey—the presumed frontrunners to succeed Mayor Charlie Hales in a race that's seen almost no public polling—had said their thank yous and received their ovations, a plaid-clad US Army veteran and community college English instructor named Sean Davis took the microphone.
Sponsored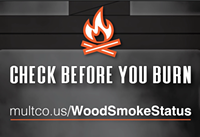 Having clean air means reducing wood smoke. Check before your burn from October 1-March 1.
Davis is also running for mayor, but he hadn't been asked to the forum, organized by the group Emerging Leaders for Oregon. He says he learned about it from a friend, and decided to just show up and ask to speak.
He wasn't the only one with that notion. After Davis told the crowd about his work helping the homeless at a Portland American Legion post, David Schor spoke. Schor, an attorney who handles civil enforcement for the Oregon Attorney General's Office, touted a tax-the-rich proposal he believes sets him apart in a race where people largely agree on the issues.
Jessie Sponberg was there, too. A well-known local activist, Sponberg got the loudest applause of the night with his short stump speech—in which he called himself "kind of a piece of crap," but also invoked a grassroots spirit, suggesting that to elect an establishment mayor would be to "get in the same hole and just pick a different shovel for four more years."
Two-time mayoral candidate Steven Entwisle railed against police abuse, and said the city should plant more trees.
The four men hadn't been invited to Rontoms—just as most of them haven't been asked to the ever-growing list of candidate appearances and endorsement interviews that will pack Bailey and Wheeler's calendars in the run up to the May 17 election.
But this year's crop of presumed also-rans is pushing back.
"We have to break the narrative that it's just two people running," says Schor. "If [Bailey and Wheeler] become the only faces for the community, it's a foregone conclusion."
Schor, Davis, and Sponberg profess a mutual respect for one another. They huddled briefly before the Rontoms forum, figuring they could support each other's pleas to be heard. They largely acknowledge their long-shot status (though Sponberg insists he's the race's frontrunner), but they see no reason to let it silence them.
"Let's have a real election," Davis says. "If you're going to have a candidates forum, invite all the candidates."
Bailey and Wheeler tell the Mercury they're all for that. But it's not happening at this point in the primary race, which so far boasts 10 mayoral candidates.
On Monday, when members of the Northwest Oregon Labor Council gathered to hear from mayoral candidates, Bailey and Wheeler were the only ones invited.
"In our mind, it's going to be one of these two gentlemen who's going to be the mayor of Portland," the council's executive secretary-treasurer, Bob Tackett, told the Mercury.
And the following day, at a forum on the arts sponsored by the Regional Arts and Culture Council (RACC), there were five candidates on the program—but Wheeler and Bailey were the only representatives from the mayor's race.
The snub incensed Davis, Schor, and Sponberg—along with their fans, who posted angrily on the event's Facebook page. Each of the three candidates has some claim to involvement in the city's arts scene. Sponberg and Schor are involved in music, while Davis is a published author who's worked on film and theater productions.
Davis even had an ace in the hole. He works with Lidia Yuknavitch, a prominent local author whose latest novel is a finalist for the prestigious Oregon Book Award. Yuknavitch chimed in on Davis' behalf with people at RACC, saying in an email he "has done more in the category of community activism in Portland than anyone I know, which is saying a lot, since I know so many people in the arts and culture category."
The endorsement seemed like it might have sway. OPB Arts Correspondent April Baer, who was tapped to moderate the forum, wrote to Yuknavitch on Facebook that "we're talking through this." But RACC stuck to its guns.
"I totally understand why people are frustrated," said the group's executive director, Eloise Damrosch. But she noted: "If we have them all on stage, no one will have a chance to speak."
"I'm going anyway with some people who support me," Davis told the Mercury ahead of the event (which was occurring as this issue went to press).
This is not a new thing, of course. During Portland's 2012 mayoral primary, voters largely heard from only three candidates—former state Representative Jefferson Smith, New Seasons co-founder Eileen Brady, and Hales—leaving 20 more out in the cold.
In high-profile races like this year's Republican presidential primary, less-heralded candidates have been given a debate separate from the frontrunners—derisively dubbed the "kids' table." Those decisions are made with the benefit of polling, though. There hasn't been enough credible polling released to accurately determine who Portland's mayoral frontrunners are.
Jim Moore, a political science professor at Pacific University and director of the Tom McCall Center for Policy Innovation, says there's a risk of limiting ideas in the mayor's race by highlighting only Bailey and Wheeler this early on, "but it's quite frankly up to the campaigns and the organizers of these events to figure out what goes on."
Moore proposes several criteria event organizers might use, few of which will be beneficial to low-key candidates: polling (which, again, hasn't been released if it's out there), raising at least $5,000 (most low-profile candidates don't plan to raise or spend much), and whether any of the candidates bring anything "new" to the race.
"Pretty much all of these candidates are moderate to liberal Democrats," Moore says. "That's the problem with Portland."
Davis, Sponberg, and Schor are all busy lobbying for more exposure, with some success. Schor, for instance, says he's won spots in three forums in coming months.
In the meantime, another candidate is hoping to install herself in the heart of the mayor's race. Sarah Iannarone, a Portland State University employee and café owner, formally entered the race on January 21. She's the only woman vying for the mayor's office so far, and is promising to raise big-time cash in order to be competitive.
"The whole rationale for my campaign is that Portland deserves more than inevitability," Iannarone says. "We really deserve a good conversation about the issues."