H e looks great in goat horns, and he can play two wooden flutes with his nose. Jay Lieber calls himself a "harlequininja" and a "grand soliloquizer," but I just think of him as Portland's Puck, regularly showing off his mad satyr skills on the bohemian burlesque circuit.
---
MERCURY: What shows/projects are you currently working on?
JAY LIEBER: Thankfully, I have my datebook here to help me answer that. I'm the emcee for an 18-piece marching band called LoveBomb Go-Go. I yell at everyone, with a megaphone, about how we are from space, and I do some choreography with ladies in silver hot pants. Then there's Cambion, my neo-classical chamber metal duo, where I play the violin alongside Jessie Dettwiler, who plays the cello. I'm an enthusiastic noob at the Murder Mystery Company. I'm narrating a series of comic aerialist epics with the AWOL Dance Collective, titled Zip Zap Zoom and Zip Zap Doom. I emcee a variety of circus/burlesque/cabaret shows, and I curate the cabaret portion of the Kinky Salon. AND THE CLOWNING! I'm a clown. On the internet. With another clown. That's all you need to know.
What are your special skills?
Ah, the old bag of tricks... I play the violin, classical flute, and alto and soprano baroque recorders simultaneously through my nostrils. I can stick a three-foot nasogastric feeding tube so far up my nose that I can pull it out of my mouth and pour a shot through my head. Oh! My mouth also talks a LOT at shows. My ability to spew compelling [pseudo-Elizabethan] bullshit at length has earned me many a pretty penny. I like to use physical comedy, too.
Favorite and least-favorite things about burlesque?
Naturally, my favorite thing is being around tons of beautiful women, who are usually kind of crazy in the same way I am and can have fun being silly, sexy, scary, or whatever it is that day. My least favorite thing is when people don't understand that what I'm doing is work. When drunk people try to chat with me between numbers, it derails my whole process.
How does murder mystery theater work? Is it sorta like "Live Clue"?
It is! Except YOU are a suspect! It transforms audience members into characters with backstories, and people "interrogate" each other in order to determine who done it. The whole thing is framed by hilarious skits that serve as plot points and provide bigger clues. People get really into it, and it's running strong in 16 cites and counting.
How does your audience see you, and how do you see yourself?
That depends on the show, I guess. If I'm hosting sexy shows, I act sexy; if I'm hosting funny shows, I act funny; when I'm hosting the Marylhurst Spring Fair Talent Show, I act in ways that I hope don't piss off the Catholic parents of the liberal arts vanguard. It seems to be working out well so far.... As for myself, I see myself in myriad ways, some competent, some conflicted. The flipside of being the center of attention professionally is that in my downtime, I just want to hide under a blanket with a growler of elderberry cider.
---
Catch Jay Lieber with LoveBomb Go-Go at Smash Putt, 140 NW 4th, Thurs March 6, smashputt.com; or performing vaudeville at Happy Hour Sip 'n' Strip at Analog Café, 720 SE Hawthorne, Wed March 12, 7 pm, $5
Sponsored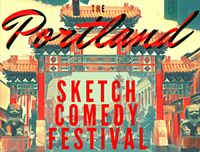 Sketch comedy troupes from all over N. America descend on The Siren Theater for 3 glorious nights.