LET'S GET THIS out of the way—when I was little, I had an imaginary friend named Laura. Not so coincidentally, I really, really liked Laura Ingalls. So it's fair to say that Wendy McClure, avid Little House fan and author of The Wilder Life: My Adventures in the Lost World of Little House on the Prairie, is of my tribe.
McClure, like myself and countless others, grew up obsessing over the tragically awesome world of Laura Ingalls Wilder and her family of pioneers. On TV, we jeered at bitchy Nellie Oleson and bemoaned the misfortune of poor blind Mary. But it was that Michael Landon-helmed gateway drug that eventually led us to Wilder's series of children's books, a semi-fictional account of her family's covered-wagon travails in the late 1800s. It was a heartbreaking and cozy world, where Pa built umpteen houses, Ma cooked up wholesome meals, and Christmases were always meager but happy. It was an easy place to love as an eight-year-old. As a thirtysomething urbane Chicagoan, McClure decides to revisit that prairie romance.
Shortly after her mom dies of cancer, McClure's boyfriend gives her a set of Little House books. Even as a children's book editor, McClure hasn't revisited the series since West from Home disappointed her as a kid—it's the book where grown-up Laura is fat and nearly falls off a streetcar. McClure's fascination with prairie life is immediately rekindled—corncribs, hardtack, johnnycakes, horehound candy, vanity cakes, Ma's biscuits, and calico... oh, the calico. God, I loved all those fetishized foods and accoutrements, too. McClure throws herself headlong into the bygone world, buying a butter churn and traveling to endless Ingalls landmarks. She buys six sunbonnets and vacations at a working farm with a bunch of other bonnet heads. All the while, her boyfriend Chris inexplicably humors her Little House fanaticism with funny little asides and gentle encouragement.
As a kid, McClure says, "I had a close imaginary friendship with the Laura of On the Banks of Plum Creek... I daydreamed that she'd shown up in the 20th century and I had to be her guide." I too wanted to show Laura around my modern-day life. Wouldn't the candy aisle at Safeway amaze that little prairie girl? It's a reciprocal fantasy—Wilder told us about her childhood, simply and vividly—so we dreamt of showing her the wonders and ease of ours. As an adult, McClure reverses that daydream, visiting "Laura World" with her field trips and homesteading projects.
The Wilder Life is filled with humor and McClure's dorky, scholarly interest in the life and times of Laura. Were it not for her wit, the book might fall a little flat in the "I was obsessed with this weird thing" genre, especially in Portland where everyone's canning, pickling, and churning. McClure is a charming writer—aware of how nerdy this whole endeavor is, but fully aware she's not the only one who wants to read about pioneer pantries—which makes this book a delight. Of course, she's starting with source material that would make even the most stonehearted want to sport some pigtails. Like this prairie porn from By the Shores of Silver Lake: "Big girl as she was, Laura... flung herself on the flowery grass and rolled like a colt. She lay in the soft, sweet grasses and looked at the great blueness above her and the high, pearly clouds sailing in it." Okay, so where can I pick up a calico sunbonnet?
Sponsored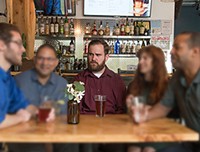 Adults aged 18-35 with good hearing will be paid for their time. Located at the Portland VA Medical Center