LIKE SO MANY PEOPLE, Matt Braunger goes home for the holidays. Over the years, when back in Portland for Christmas, the endearingly goofy, LA-based stand-up would book local shows to sprinkle cheer on the city he grew up in.
Last year another Portland ex-pat comedian, Ron Funches, did the same. Alongside Braunger, Funches joined then-Portland comedian Ian Karmel for the stand-up showcase Funny Over Everything. The three comics had a blast, so they decided to do it again. This week's First Annual Coldest and Darkest Time of the Year Comedy Spectacular is a homecoming show for all three comics, since Karmel also headed south earlier this year in pursuit of a career in cackles. Like Funches before him, Karmel's touchdown in Tinseltown couldn't have been smoother.
Sponsored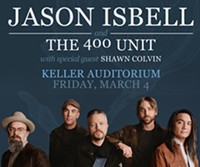 Jason Isbell has established himself as one of the most respected songwriters of his generation. Don't miss Jason Isbell and the 400 Unit, March 4th at Keller Auditorium!
"Ian walked in the door to a job," Funches jabs in mock outrage, belying his own tremendous success.
"I was here a week," Karmel deadpans.
Both, seated on the living room couch of the LA house they share, burst into laughter.
Braunger—who grew up in Portland before it had a stand-up scene, and who subsequently came of age as a comedian in Chicago—remembers being blown away at how both Funches and Karmel hit the ground running.
"Ron and Ian broke the land-speed record for getting a job in LA," says Braunger, the relative statesman. "I was there for three years before anything even began to happen."
Ever magnanimous regarding his peers and friends, Braunger adds: "I was really just amazed and proud."
Indeed, the rapid rise of the gently frolicking Funches and the booming-but-whimsical Karmel is undeniable: Hollywood has greeted them with open arms.
Karmel scored a writing job on the E! network's Chelsea Lately almost the moment he stepped off the plane. And while Funches arrived earlier than Karmel, his list of projects and appearances is both impressive and growing.
As well as becoming a regular on the live touring and festival circuit, Funches was ranked #1 in the LA Weekly's "Comedy Acts to Watch in 2013." The paper called him a "deceptively magnetic performer that audiences find not only hilarious but intriguing on the most basic of human levels."
Earlier this year, on Fox's New Girl, Funches made his network TV debut. In a bit part as a seductive, crooning, soiled, and half-naked wino, he stole the scene. He was then enlisted as a writer for the second season of Comedy Central's marvelous, subversive, and boundary-demolishing Kroll Show, on which he'll also perform. (Season two begins January 14.)
Meanwhile, demand has grown for Funches' feathery-soft vocal cords. On Disney's live-action puppet show Crash & Bernstein, he voices recurring character Roland. Funches will soon be heard on Fox's Bob's Burgers as well. The list goes on.
"I'm going to be on a cartoon on Comedy Central that I can't even remember!" he giggles.
The opportunity that tops them all, though, is Undateable, a sitcom about a ragtag band of misfits taught modern coupling by a Casa-nova (Chris D'Elia). Funches is part of the core cast of the show, which was picked up this year by NBC. Currently in production, Undateable is scheduled to premiere in 2014.
And while acting, writing, and voice work have presented Funches with myriad chal-lenges and opportunites, he still works dutifully on his stand-up.
"It became more of a treat for me," Funches says. "Stand-up is something that I always did for fun. I didn't even think about making money at it at first."
For Karmel, who spends 50-some hours a week writing for Chelsea Lately—as well as occasionally performing on the show (see his standout performance as the fourth Hemsworth brother, "Doug")—stand-up has become even more important.
"After a day of doing Miley Cyrus jokes or having a sketch you wrote for the show eviscerated to make it a little more accessible, you leave feeling like: Is this comedy for a living?" Karmel asks. "Then you go out and you do stand-up and you remind yourself: 'Ooh, that's right.'"
"I do stand-up for free," Funches adds. "I don't think I'd act for free."
That said, the money has been sweet—particularly for Funches, who is providing more for his young autistic son than he could in Portland.
"Whenever he wants a pizza, he gets a pizza!" Funches says. "I'm not stressin' about, 'Oh no, he wants another pizza!' I got pizzas. It's made me very happy to be able to get him nice things and take care of him better."
Such security, along with recognition from fans, peers, and the industry, are having profound effects.
"It's helped me believe that I can achieve goals," Funches says. "When I was struggling and being poor, there were reasons not to have as much confidence. Now I'm feeling better and better about myself. But not in a cocky way—just that I've been taught that I can do these things."
I ask Karmel about how he plans to stay humble.
"I don't," he says. "I never was in the first place." On the couch, the two friends again burst into laughter.
As of press time, Funches, Karmel, and Braun-ger have yet to decide what exactly they're planning for the upcoming holiday show in Portland.
"As far as I know it'll mainly be stand-up," says Braunger. "Hey, but you never know. By the time it rolls around we might have a couple musical numbers, get some of the performers over from Sassy's, and put Reggie Deluxes from Pine State and wings from Pok Pok under everybody's seats. No promises. I do, however, promise a fun show that'll make you forget putting up with your older relatives' racist dinner comments."
"It's going to be a lot of fun," says Karmel. "It's going to be a big party kind of atmosphere."
Adds Funches: "It's a festival of our friendship, really."