OVER THE LAST YEAR or so, the ActivSpace building on SE 9th and Main has quietly become a hub of the sort of activity best described as "very Portland." The Portland Radio Authority broadcasts from a street-level studio; vegan-friendly bakery Black Sheep has a bike-through window; local publisher Microcosm's shop is jammed to the ceilings with comics, zines, and the DIY guides that have been selling particularly well this year.
The newest addition to this progressive little pod is Copyleft Books, a closet-sized bookstore whose shelves are marked by something many politically oriented bookstores don't have: a fiction section. Copyleft has an appealingly eclectic inventory, stocked with books scouted at garage and estate sales, as well as titles from the couple's own collection. In addition to the predictable activist fare (sections on animal rights and anarchism; copies of CrimethInc. manual Expect Resistance), you'll find a sci-fi section stocked with vintage Philip K. Dick paperbacks, an offbeat selection of old comedy titles, and a small graphic novel section. (And for those drawn to the fringes, several shelves are hosted by distributors Last Earth, who specialize in more esoteric titles—Improvised Weapons of the American Underground, anyone?)
The store also buys and trades books, with an eye toward vintage and unusual titles. But is there anything they won't take?
"Definitely not romance novels," co-owner Adam Burger says. "Those are not coming into this store."
Sponsored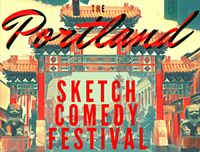 Sketch comedy troupes from all over N. America descend on The Siren Theater for 3 glorious nights.