"WHEN I TALK to other people who make music, it's often like, 'My parents showed me the Beatles when I was four,'" says Rare Diagram mastermind Justin Chase. "That just wasn't at all how my household was."
Growing up in rural Ashford, Connecticut, Chase's musical upbringing was nearly entirely made up of classical music and opera. It wasn't until he was 15 that modern classics like OK Computer or Loveless took hold of his creative synapses. While attending William Paterson University in New Jersey, Chase focused on jazz piano performance. All of this goes a long way toward explaining the swirling diversity at work on Rare Diagram's debut album, Secret Shot.
Over 11 songs, Chase—with help from guitarist/vocalist/keyboardist Emma Browne, bassist Chris Marshall, and drummer Cory West—utilizes unique textures of instrumentation to coax jazz phrasings and sophisticated symphonic flourishes out of pop songs. Chase tapped the talents of those closest to him to get the sprawling sound on Secret Shot.
"The way I approached this record was to use resources that were available and try to work them in, rather than definitely make this Sufjan Stevens baroque-pop masterpiece or something," says Chase. Featured players include Chase's parents on strings, and other friends on horns, vocals, and more.
It's this musical variety that makes the record. Even as the deliciously melodic hooks on a song like "Scripture" are enchanting you, you're aware that Chase's inner Donald Fagen is working overtime to sneak in as many non-pop elements as possible.
"Something that is really musically valuable to me is using musical information that's non-standard," he says. "I wanted to make something that would encourage multiple listens and not fit into anything trendy or blog-y."
The best example of that is Secret Shot's first single, "Ouroboros," a multi-layered composition that exhibits Chase's more-is-more aesthetic. Its decadence is the essence of the baroque-pop canon, and it's a beautifully busy epic.
"That was the first one where I realized I could use 27 chords in a song instead of three and it can work," says Chase. "I don't know why but I decided to count one day... that was pretty egotistical of me."
Sponsored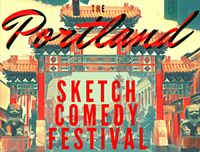 Sketch comedy troupes from all over N. America descend on The Siren Theater for 3 glorious nights.