In light of the impending merger between the Pacific Northwest College of Art and the Museum of Contemporary Craft—a partnership which promises to help the museum survive a funding slump—now seems an opportune moment to revisit the museum's unique contributions to the city. One of the most exciting aspects of the exhibitions put forward by is the extraordinary amount of freedom that Namita Gupta Wiggers enjoys in her duties as curator. It is with obvious delight that she explores the challenges presented by the craft context, inspired by fundamental questions about the relevance of borders between fine art and the sheer tactile joy of materiality.
Sponsored
Win a behind-the-scenes tour of our kitchen, see how we make our artisan edibles, and get some swag.
Seattle artist Mandy Greer's Dare alla Luce is an exuberant, visceral indulgence of unfettered process. The museum's first-floor gallery space is consumed by the installation, in which chandeliers of crochet dangle and drip from the ceiling in shades of green, each a reference to a different tree species. The twisting, organic threads have drawn comparisons to MK Guth's recent exhibit at the Portland Art Museum, but Dare's initial reference is to the late Renaissance painter Jacopo Tintoretto's The Origin of the Milky Way, in which the Roman goddess Juno's breast milk spills into the sky.
The intellectual significance of Greer's inspiration is less compelling than the lushness of its execution, and Wiggers apparently recommends experiencing it by lying on the floor, looking up, to maximize the satisfying sense of being enclosed within its decadent tendrils.
Greer's work is being shown in tandem with another, much different textile exhibition, Darrel Morris' The Large Works 1999-2008. Best known for small, colorful embroidery art, Morris' Appalachian roots and autobiographical tendencies lend a straightforward, masculine quality to his unexpectedly powerful and misleadingly spare medium.
Morris works off of collages created with newspaper clippings of human figures grouped according to common gestures. A throng of people traced out of a red background in an agreeable, slightly wobbly white thread all stand pointing, for instance, while a tableau of a Southern funeral affectionately mocks its melodrama, exuding a quiet, surprising power. A counterpoint in many ways to Greer's installation, the combined duo is indicative of the wide playing field that Wiggers' agnostic philosophy enables, evoking the potential in the still-struggling craft genre's future.
Sponsored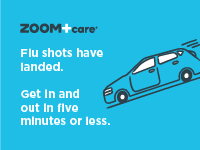 ZOOM+Care makes flu shots easy and safe. Schedule ahead, skip the line—get in and out in 5 minutes.