"The male is a biological accident," Angela Fair announces midway through Fire Island. "Boy babies should be flushed down the toilet at birth."
It's one of the funnier scenes in defunkt's production, thanks largely to the over-the-top comedic commitment of Fair, manically channeling some hybrid of Molly Shannon and Kristen Wiig. Chuck Mee's script offers plenty of riffs and variations on the age-old theme of love—up to and including giving brief, jokey credence to the notion that there's no such thing as a good man. (A counterpoint is offered later: A male character posits that the institution of marriage arose because women have menstruation-related iron deficiencies and "require constant infusions of meat," so they found a way to manipulate men into "bringing home blood-soaked dinners every night.") The show is made up of loosely connected vignettes, mostly featuring couples in different configurations: men and women, women and women, men and men; hooking up, breaking up, or riffing on a range of love-related subjects. Some of the characters recur, some don't—there's no particular narrative continuity, only a wash of personalities and interactions. (It is not, as anyone could be forgiven for assuming, a gay romcom set on Fire Island.)
In defunkt's uneven production, the scenes grounded by female ensemble members work the best. McKenna Twedt, Victoria Blake, and Angela Fair make confident choices that help anchor a show that can feel by turns aimless and cartoonish. Video screens show pictures of water or movie poster-style imagery; from where I sat, the video added little and was often hard to make out. Additionally, and despite clocking in under two hours, the show feels long—an interpretive dance segment (set to a lovely cover of "Love Will Tear Us Apart") felt particularly interminable.
Defunkt is known for choosing difficult experimental shows—a reputation assiduously cultivated during the reign of their founder and former Artistic Director James Moore. With this show, though, and their recent production of David Mamet's Glengarry Glen Ross, the company is undergoing a renaissance of accessibility. (The cast even took a curtain call after Fire Island! Times have changed.) This show is easy enough to follow; the challenge comes in understanding how its disparate pieces fit together. And in defunkt's hands, they often don't.
Sponsored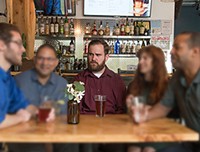 Adults aged 18-35 with good hearing will be paid for their time. Located at the Portland VA Medical Center