POP MUSIC is inherently and invariably a language of myth. In all of the capricious postures at work within pop, it's myth more than anything that lionizes our pop stars—forging idols out of fictions, hyperbole, and cut cognitive corners (Bob Dylan, Keith Richards, et al.). It's also myth that often circumscribes these same stars; it keeps artists forever mason-jarred on shelves alongside their greatest achievements and most epic failures (see Brian Wilson, Axl Rose, Kevin Shields, et al.).
Jeff Mangum is all myth. It's the very core of In the Aeroplane over the Sea—the era-defining magnum opus he created with his former band Neutral Milk Hotel way back in 1998. But as much as the music itself, it's the alluring, now nearly threadbare fable of Mangum the man that has propagated his masterpiece's strange ascendance from marginal indie-rock gem to almost religious tome. It's what has come to define Mangum in the eyes of his dutiful flock—and what has kept their flame burning and growing since his purposeful disappearance some 11 years ago. It's also what makes his recent, modest return to the stage such a dodgy proposition.
 Before we get to that though, a bit about that still very marvelous record: A sprawling and stunning yarn, Aeroplane's inner mythology is explicit and intentional—its narrative so deliberate in its allegorical thrust that Mangum goes so far as to distill its images down to the language of a nightmarish fairy tale. Child kings, Siamese twins, omniscient ghosts, and mountaintops stained with semen all populate Mangum's fancifully phrased love letter to Anne Frank—even down to the artwork with its children's storybook illustrations. It's a deliberate and grand parable, one genuinely monolithic in its scope and influence. Still, if it was only about the music, Mangum and his masterstroke would simply be another high-water mark in the crowded annuls of '90s indie rock. Without the myth, Aeroplane would likely be just another brilliant and quietly beloved album.
Here's the difference: Following its release, Mangum famously and inexplicably retreated from the stage—retiring the Neutral Milk Hotel moniker, abandoning pop music, and (if the well-proliferated legend is to be believed) all but disappearing into willful obscurity. He did this largely without explanation. Theories have been posited about the reasons for Mangum's departure, a common suggestion being that the crippling fear of following up his masterpiece was simply too much to bear. It can't be overstated how important this deliberate shroud of mystery has become to the meta-narrative of In the Aeroplane over the Sea: a grand and singular statement that through Mangum's lilting absence is allowed to exist in a bubble of its own design—free from the trappings of its very real, very human creator.
It's a gambit, then, for Mangum to dust off these songs and return to the stage after all this time—to anchor the myth in the form of a real live human being again. The reasons for this sudden return remain somewhat unclear. By most reports his recent performances have been riveting affairs playing the Neutral Milk back catalog, devoid of any new material; welcomed clemency for the devout flock that have come to his music since his untimely departure, but a reprieve that comes with more than a little risk to the future of the Mangum legend. It's his myth to break, but at what cost to the mystery that's fueled so much of his adulation? What if he writes new songs? And what if they're just okay?
Sponsored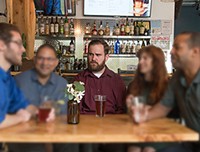 Adults aged 18-35 with good hearing will be paid for their time. Located at the Portland VA Medical Center