AS IF TO PREEMPT the references to his infamous turn at the Republican National Convention, Trouble with the Curve begins with Clint Eastwood, as legendary Atlanta Braves scout Gus, talking to inanimate objects—his penis, his coffee table, his half-eaten can of Spam. It's all to demonstrate his grumpy contention with the aging process (Eastwood himself is 82), most troublingly manifested in the form of macular degeneration that has impaired his ability to drive—and gauge prospective major-leaguers on the field. Despite his efforts to hide it from his employees, it seems inevitable Gus will soon be "put out to pasture," and so, at the urging of his best friend Pete (John Goodman), his workaholic attorney daughter Mickey (Amy Adams) joins him on what may be his last tour of duty.
In what's less a sports movie than a dad-and-daughter drama with watered-down, non-threatening humor, Mickey drops impressively obscure bits of baseball trivia, shoots perfect games of pool, and drinks single malt scotch out of the bottle to demonstrate the acuity she earned traveling through a world of "men who cursed, drank, and farted" after her mother's death. Adams manages to leaven her character's fetishized ball busting with a natural vulnerability, striking a delicate balance that stands out against the film's many blunt strokes. Love interest Johnny (Justin Timberlake), for instance, is little more than an amiable, smitten puppy dog; the snotty characters are punished, while the humble are rewarded; and the rapidity and ease with which plot points resolve at the film's conclusion are either laughably simplistic or intentionally nostalgic.
On whole, Trouble wears its mantle just fine. As a perfectly enjoyable, unchallenging, and un-confusing outing that won't make you laugh or cry too hard, it's utterly efficient and downright unremarkable.
Sponsored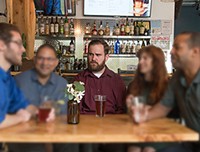 Adults aged 18-35 with good hearing will be paid for their time. Located at the Portland VA Medical Center