ADMIT IT, summer in Portland transforms you into a clueless horror-movie teen. The minute the sun comes out, you wriggle into cutoffs and start necking in a park. But beware: You cannot outrun the Bard. He lurks behind every tree and saunters through every meadow.
---
First, for the outdoor freebies:
• Original Practice Shakespeare Festival (or OPS Fest) claims to kick it really old school, serving Shakespeare's original down-to-earth ethos. Their outdoor shows are simply staged and often extremely silly, with amateur-to-pro actors wrangled by a stripe-shirted "referee." They've got a smattering of gigs in green spaces all over town, or choose from a veritable onslaught of shows they're staging at Laurelhurst Shakespeare Festival (July 18-26). opsfest.org for details
• Portland Actors Ensemble's Annual Twilight Tragedie Antony and Cleopatra is making the rounds between Laurelhurst, Marylhurst, and Woodstock Parks now through July 26—and looking pretty wickedly stylish, with the compelling Andrea White portraying Cleopatra in full Egyptian makeup and regalia. PAE's also doing A Midsummer Night's Dream (July 12 through September 1). portlandactors.com
---
Moving from open air to closed courtyard...
• Post5 will mount the comedy Love's Labour's Lost in its courtyard from now until August 3. In their signature mode of thorough and oh-so-contemporary staging, it looks like this one will be a boffo boys vs. girls romp... maybe channeling last season's Bon Ton Roulet. facebook.com/post5theatre
---
And now change your shoes for indoor sports.
• Portland Shakespeare Project will pitch full-sail into Shakespeare's ethereal shipwreck-and-magic tableau The Tempest at Artists Repertory Theatre (now through August 3), with plenty of strong actors onboard. Linda Alper plays "Prospera," a gender-twisted Prospero who's otherwise the same: an exiled sorcerer and possessive parent. Matthew Kerrigan will portray tortured monster-man Caliban, and Sam Dinkowitz will be one of the show's affable drunks. portlandshakes.org
From July 24-August 9, Hillsboro's Bag & Baggage will bring their own provocative treatment to Love's Labour's (possible spoiler: Vespas?). bagnbaggage.org
• Though Portland's starting to alleviate the Shakespeare Sausage-Party Effect by casting some male roles as female, Anon It Moves will push the envelope one step further with a female-fronted Hamlet in rep alongside Tom Stoppard's Hamlet-inspired Rosencrantz and Guildenstern Are Dead. anonitmoves.org
Finally, pop in some Doublemint for Northwest Classical's version of twinsie romcom Twelfth Night, starting August 1. nwctc.org
Having beaten the Bard at his sinister game, you may now resume sucking face.
Sponsored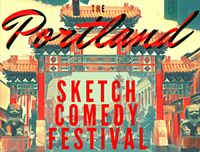 Sketch comedy troupes from all over N. America descend on The Siren Theater for 3 glorious nights.