No doubt you're aware that Hanover, Germany, is the home to the Hanover Schützenfest, or "Shooter Festival," the largest gathering of marksmen in the world. If the thought of thousands of Germans with guns makes you nervous, you might instead consider attending the less lethal but equally prestigious International Competition for Choreographers Hanover.
Sponsored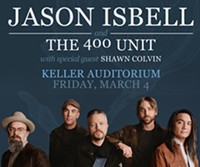 Jason Isbell has established himself as one of the most respected songwriters of his generation. Don't miss Jason Isbell and the 400 Unit, March 4th at Keller Auditorium!
That's what Portland's Northwest Dance Project did in April, the only US company invited to participate. Since the company doesn't hail from the European Union, the festival even offered to fly them over.
Then those plans got shot down.
"The competition did a switcheroo," says Managing Director Scott Lewis, and the travel was not covered because choreographer Ihsan Rustem, who created the piece, is from the EU. So, in just three weeks, the company "blitzed the fundraising," bringing in $15,000 including almost $6,000 from a Kickstarter campaign.
"We had a lot of support from fans, friends, family, and our board," says Lewis. "Even our physical therapist and doctor donated air miles to a flight."
The company performed in front of their largest audience ever: 1,800 people in what Lewis calls, "the most gorgeous state opera house" (widely considered among the 10 best in Europe). The crowd "takes this very seriously, being German and all," he adds, "and vote for their favorite piece after the show."
Exhausted by the experience, elated by the response, the company huddled backstage for an hour after the competition, waiting for the votes to be tallied. Then the moment arrived.
Standing onstage alongside choreographer Rustem, the audience-choice prize went to Northwest Dance Project. Since the announcement was in German, company members weren't even sure exactly what they won, nor did it sound especially good, what with it being in German.
"What was amazing is how well the company showed on the world stage," Lewis says. "They were stunning." As a result, the company found a German agent who promised more tour dates.
Portlanders have the opportunity to watch Northwest Dance Project in the most intimate of settings—their own rehearsal and performance space just off N Mississippi. With only 70 seats per show, you can watch every muscle tense and twitch—without the added pressure of gun-toting Germans. FLOYD SKLAVER