COMEDY BANG! BANG! is one of the funniest, most popular podcasts out there—and when Scott Aukerman and Paul F. Tompkins take to the Aladdin stage this week, they'll be accompanied by openers the Birthday Boys, a seven-man LA comedy troupe with a brand-new sketch comedy show on IFC.
"We moved out to LA right at the time that the LA Upright Citizens Brigade Theatre was opening up," explains Birthday Boy Tim Kalpakis. "It was great timing. It was before it really exploded, and we kind of got in on the ground floor. If you were a comedy nerd at the time, it was like paradise. We saw Louis CK, Patton Oswalt, Paul F. Tompkins. We'd go watch improv on Monday, stand-up on Tuesday, sketch on Wednesday."
Most of the Birthday Boys met in college in New York. After moving to LA, they formed their own sketch group, which led to their own show at UCB, and—eventually—a deal with IFC. The new show, which debuts in mid-October, is full of silly, sly pop-culture parodies and punctuated with cameos by Mr. Show creator Bob Odenkirk, who produces the show.
"Sketch is a weird art form in that it is always rising and falling," says Kalpakis. "In the past 40 years, think of how many times Saturday Night Live has been the only sketch comedy show on television. It comes and goes. For us, we got to see it get really, really big, when like Funny or Die and CollegeHumor and all these internet shows exploded. It helps to have some encouragement, and when you see that there's awesome shows like Portlandia, Key and Peele... there's tons of great sketch comedy on TV right now, and that's another thing to motivate you, that there are people out there paying attention right now."
Sponsored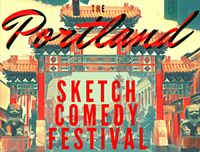 Sketch comedy troupes from all over N. America descend on The Siren Theater for 3 glorious nights.