ANOTHER COMPLETELY ARBITRARY and by no means comprehensive survey of one reviewer's personal highlights from the last year.
Sponsored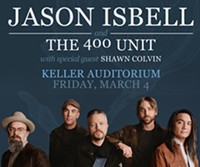 Jason Isbell has established himself as one of the most respected songwriters of his generation. Don't miss Jason Isbell and the 400 Unit, March 4th at Keller Auditorium!
Best Embrace of Social Media—Portland Center Stage (PCS) has embraced new technologies with an enthusiasm and effectiveness from which other local companies could learn much: In a single day, a sale promoted via email, Facebook, and Twitter sold over $70,000 in tickets. Moreover, PCS has demonstrated a willingness to explore the possibilities offered by a changing media landscape. Which brings us to...
Best Rejection of Social Media—This reviewer, when called upon to bring a laptop and "live tweet" PCS' three-hour production of Apollo, spent the first act virtually complaining about not being able to do two things at once; the second reading the Huffington Post; and the third trying to nap.
Best Ongoing Bid for Relevance—Action/Adventure Theatre secures a spot on the list for a second year in a row, this time thanks to their willingness to experiment with new mediums. The popular serialized comedy show Fall of the House leapt mediums to produce a web series, Fothing, a surprisingly professional offering from a company whose milieu is awkwardness and gettin' wasted.
Best Institutionalized Panhandling—Budget mismanagement and Arctic Blast 2008 conspired to swipe a hole in the Oregon Ballet Theatre's (OBT) finances—but after launching a full-stage press to raise funds, including a high-profile benefit performance with dancers from around the country, OBT eventually raised more than $750,000 to keep the company alive.
Best Reminder that Young People Will Actually Attend the Theater, if Offered Productions that Remotely Coincide with Their Interests—Atomic Arts' Trek in the Park was a sly, clever adaptation of a classic Star Trek episode—the free outdoor show had an air of cheerful populism sorely lacking from most Portland theater.
Best News Item About Which No Snarky Comment Seems Appropriate —Longtime Oregonian arts writer Barry Johnson recently accepted the paper's buyout offer. It's a blow for the arts community and the reading public alike, but Johnson will continue to blog on Portland arts and culture at artscatter.com.