THERE ARE A LOT of good things happening in Portland's comedy scene right now. Stand-up continues to develop, improv is really taking off, and in the last year, we've seen an explosion of sketch comedy. One of the latest sketch shows, The Big Combo, was written, produced, and directed by two of the sharpest talents working in Portland right now.
Caitlin Kunkel is a relatively recent transplant from Chicago who's been writing and directing sketch since the moment she set foot in town; her work just keeps getting better and better. Jason Rouse is one of the funniest people to grace our fair city, and it seems like he's everywhere, all the time. Together, Kunkel and Rouse have created a strange, somewhat dark, definitely ridiculous sketch show that covers rotisserie chickens, preschool interviews, "sex fires," and time travel. And that's just a taste of what's packed into the 70-minute show.
As with most sketch revues, some of the sketches are pretty funny, a few are duds, and one or two are absolutely perfect. There's an excellent cast, with strong performers from comedy stages all over town, and they've built up an excellent rapport. Jed Arkley, Scott Engdahl, Katie Michels, Pat Moran, Jennifer Rowe, and Brooke Totman each had moments where they stole the show, then turned around and gave it right back. It's clear that the cast enjoys the material and the process, and they're having a great time on stage.
A number of the sketches are incredibly well written, but the actors' character work really carries the show. Standouts were scenes touching on alpha-female dominance at the office, the pitfalls of using pro/con lists in couples therapy, a panda bear's dance-floor seduction, and a set of runners that included extensive asides about The Sound and the Fury. (Any sketch comedy show that includes jokes about Faulkner is one you shouldn't miss, people.)
The show had a few opening-weekend bumps, but as the run goes on, it's only going to get sharper and tighter. It's fantastic to see sketch comedy in Portland developing and coming into its own—and to know that everyone involved in The Big Combo will be a part of continuing to move it forward.
---
THE PLACE TO BE
For up-and-coming comedy writers, performers, and directors, Portland is quickly becoming the place to be. The Big Combo's writer/producer Caitlin Kunkel moved here from Chicago, where she worked with Second City; writer/producer/director Jason Rouse has been here for years.
Kunkel is a writing faculty member at Chicago's Second City, and an assistant professor at Pacific Northwest College of Art, where she teaches a course on modern comedy and satire. She also teaches sketch comedy writing at the Brody Theater and co-wrote, directed, and produced two excellent shows there: How to Age Disgracefully and A Nightmare on Elf Street.
Rouse joined well-known Portland sketch comedy group the 3rd Floor in 1999, performing with them locally and nationwide. He and four others formed the group Sweat in 2010, performing in Portland, at the San Francisco Sketchfest, and as headliners at the Chicago Sketch Festival. He's written and directed short films, and works as a writer for the critically and socially acclaimed radio show Live Wire! In what is sadly probably going to become his most recognizable role, he has apparently also become the face of Megabucks for the Oregon Lottery.
Sponsored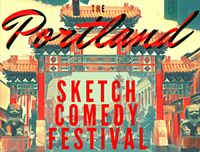 Sketch comedy troupes from all over N. America descend on The Siren Theater for 3 glorious nights.