THE WORD "GENIUS" gets batted around with regard to filmmakers with a numbing, reductive frequency. But if Hayao Miyazaki doesn't qualify for that title, who does? Since making his directorial debut with 1979's The Castle of Cagliostro, Miyazaki has blazed his own distinct trail, blending atomic-clock action timing with an awe-inspiring, hand-rendered sense of the infinite. As both a NW Film Center retrospective (screening at the Whitsell Auditorium, and featuring new, subtitled, 35mm prints) and Miyazaki's purported final film, The Wind Rises (opening at various theaters this weekend, and featuring an English-language dub) demonstrate, nobody else can balance exhilarating weightlessness with moral gravity in quite the same proportions.
The Film Center's program may not be exclusively devoted to the filmmaker, as it also features a pair of worthy films from fellow Studio Ghibli director Isao Takahata, starting with Only Yesterday (screening Sat March 15), a look at a young woman's life which features a number of subtle emotional registers that would be remarkable in live-action, let alone animation. Takahata's engagingly loopy Pom Poko (Sun March 23), meanwhile, shifts gears in a major way, following an army of magical raccoons who use their... unmentionable bits to protect their home from interlopers. (It's even weirder than it sounds.) The rest, however, is all Miyazaki, beginning with 1984's Nausicaä of the Valley of the Wind (Sat March 1), a stunning fairy tale with an ecologically devastated backdrop. Castle in the Sky (Thurs March 27) expands on those themes, with a spectacular emphasis on the filmmaker's obsession for flying objects, both mechanical and organic.
Engaging as those early films are, the director truly hit his sweet spot with 1988's My Neighbor Totoro (Fri March 7), a tale of two girls and the forest that seems to beeline directly into the pleasure centers of the brain: mention the Catbus to those who have seen it, and watch the dizzy grins begin to form. The whimsy continues with Porco Rosso (Sat March 22), a comic action film featuring a flying ace, who just happens to be a giant mustachioed pig. Princess Mononoke (Sat March 15) skews decidedly darker, with a epic, often horrific saga of nature, industry, and what happens when balance is lost. (The unclean movement of those faux-boar things still haunts me, years after first viewing.) Even with such a back catalog to consider, 2001's Spirited Away (Sat March 22) may well be Miyazaki's masterpiece, blending all of his themes and passions into a unified, breathtaking whole. The story of a young girl's odd summer job, it makes the unreal seem delightfully real, and vice versa. When he announced his retirement afterwards, it felt perfectly understandable, if not still distressing.
Miyazaki returned, however, for Howl's Moving Castle (Sat March 29), an adaptation of a fantasy novel by Diana Wynne Jones. It's easy—perhaps too easy—to see what drew him to the project, as the content makes it often seem like a greatest hits collection. Even if the material's a bit familiar, the sensory benefits are still immense, ranging from the breathtaking battle scenes to a perfectly designed dog with a smoker's cough that I could watch for days.
Which all leads to The Wind Rises, Miyazaki's most autobiographical work, in which a flight-crazy young Japanese boy follows his dreams, culminating in the development of WWII's legendary Zero aircraft. The director's announced swan song has raised some critical hackles for its fact-based subject matter, which emphasizes the protagonist's personal journey over the devastating real-world results. When placed against Miyazaki's career-long exploration of imagination and consequences, however, it still feels of a piece, in virtually every movement and word. (As usual with his films, the English dub has been chosen with care: even for animation purists, the chance to hear Werner Herzog waxing rhapsodic about watercress is not something easily missed.) Selfish as it may be, it's difficult not to wish that he'd somehow keep going forever. With every glimpse, the magic only grows.
Sponsored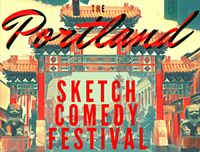 Sketch comedy troupes from all over N. America descend on The Siren Theater for 3 glorious nights.