"MY MUSIC speaks to the people who come from the same things I come from—poverty, low socioeconomic status," says St. Johns rapper Mic Capes. "I want to inspire kids, especially in the inner city, to chase their dreams."
Sponsored
Sketch comedy troupes from all over N. America descend on The Siren Theater for 3 glorious nights.
Capes possesses a truly extraordinary gift as a writer: He allows others to bear witness as he illustrates his life experiences vulnerably, vividly, and honestly. For him the line between poetry and rap has always been blurred. He started writing poetry in fifth grade, and the following year was inspired by an older kid in his foster home to start rapping his poems. Growing up, Capes—born Michael Caples—used poetry to energize and express himself. With his sophomore full-length, Concrete Dreams, due this spring, he wants his words to reach kids in similar situations.
"I don't want kids to think they can't achieve their goals because of where they grow up. I want them to know there's more than the neighborhood they come from. That's pretty much the theme of Concrete Dreams," he says.
Beyond his career as an emcee, Capes hopes to one day start his own Concrete Dreams Foundation—an organization that would encourage youths to work toward their creative aspirations, particularly those that don't fall within the realm of sports and entertainment.
"I think it's important, especially for black kids, to be encouraged to get into stuff outside of sports and rapping," he says. "It feels like we stunt our growth trying to just be athletes or entertainers. Kids need to be told that they're capable of more than that.
"Growing up, if the people you see making money in your neighborhood are selling drugs or stripping, things like that become more attractive," he says. "At a certain point, I was thinking about gang banging. I had a lot going on, and I didn't have a place to put that energy. Having mentors helped turn me back in the right direction."
On "Razor Tongue," a single off Concrete Dreams, Capes raps, "Probably thought I'd grow to be a killer or a crack server/Either that or flipping patties at a Fatburger/Fuck that, I got a master plan to move these raps further."
In Capes' songs, his story unfolds before your eyes. His perceptive, insightful lyrics invite listeners to see the world from his vantage point. He hopes the cinematic quality of his music will draw in people growing up in places like St. Johns, but also those who can't possibly imagine what it's like to be black and poor in one of the whitest cities in America until they stop and listen.
"I want people who aren't from the same background as me to be able to learn from my music. I hope it raises awareness," he says. "Too many people walk around ignorant to what's going on outside of their circle."
On "Jansport," another single off his upcoming release, Capes raps, "Your neighborhood was like Mr. Rogers/My neighborhood was like cops and robbers," speaking to those who grew up more sheltered and privileged.
"The realities are different," he says. "If someone else hears this that's not from here, it might spark them to wondering, asking questions, and trying to learn about what's going on out here."
It hasn't been easy trying to foster a hip-hop community in Portland, but Capes has hope for the future. "Portland is a pretty white city, and hip-hop is mostly made by people of color," he says. "It feels like there isn't a lot of cultural space here to do things without having them co-opted or over-policed. Lately though, that's been changing... I think Portland's hip-hop scene is young. In the future, I hope there are more venues for hip-hop here."
Since the 2013 release of his debut LP, Rise & Grind, Capes has been working tirelessly on Concrete Dreams. On both projects he collaborated with talented producers—including Brixton Chase, Lex Royale, and Drae Slapz, to name a few. He is also a member of the Resistance, a collective that includes fellow trailblazing Portland artists Glenn Waco and Rasheed Jamal.
Capes opened for the sold-out Bone Thugs-n-Harmony show the Crystal Ballroom just a few weeks ago, an experience he likened to a time-lapse.
"The crazy thing about it was that at six years old I was watching Bone Thugs videos and not even thinking I was going to rap at all," he says. "Fast forward and I'm on the same stage as them, and they liked my music."
Mic Capes is an artist who bares his soul and puts his whole self into his music. He speaks his truths bluntly; he never attempts to make his past easy to hear about. But that's part of what makes Capes so intriguing—he's able to talk about the hardest points of his life with a sense of hope for the future. As he raps on a track off Rise & Grind called "Growing Pains": "Just lend me your ears, I'll give you my heart/Walk in my shoes, I'll give you my soul, every time that I flow."
Sponsored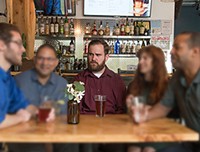 Adults aged 18-35 with good hearing will be paid for their time. Located at the Portland VA Medical Center