THE FIRST PAGE you should read in S.H.I.E.L.D. by Steranko: The Complete Collection is the final one. That's where you'll find Jim Steranko's biography, which I suspect was written by Jim Steranko. It begins by noting that Steranko's "one of the most controversial figures in contemporary culture," adds that "as an escape artist, his death-defying performances inspired the character Mister Miracle and the protagonist of the Pulitzer Prize-winning The Amazing Adventures of Kavalier and Clay," and concludes by matter-of-factly stating that in addition to revolutionizing comics, Steranko "has been a musician, photographer, male model, ad agency art director, sideshow fire-eater, typographer, magician, designer, publisher... the list goes on."
Steranko, in other words, should be your hero, and that's before you crack the rest of the book. (I'd be remiss if I didn't mention his logorrheic Twitter feed, where he happily details stories from his fabled life.) Comic books were once the provenance of larger-than-life characters—both those on the page and those who wrote and drew them—and characters don't get much larger than Steranko and his alter ego, the eye-patched Nick Fury, a secret agent who enters rooms shirtless, riding a rocket-powered motorcycle, firing two guns at once.
Timed to coincide with the premiere of the TV series Agents of S.H.I.E.L.D., the 300-plus-page S.H.I.E.L.D. by Steranko is a heavy dose of both Steranko and Fury. It's a thing of bizarre beauty: With photographic elements, graphic design, splashes of Warhol, and bursts of surrealism, Steranko combined the best parts of 007 and the weirdest parts of the Marvel Universe to make comics unlike any that had come before. A few aspects feel dated—like, ah, naming a Nobel Prize-winning black scientist "Dr. Black"—but the majority of Steranko's still-thrilling art and punchy dialogue still feels weird and fun, four decades after it was made.
The collection's bulk is made up of the Steranko-drawn and written portions of Strange Tales, where he got his start at Marvel in 1966, alongside Stan Lee and Jack Kirby. But the best parts might be Steranko's Nick Fury: Agent of S.H.I.E.L.D. series from 1968: one issue's a Vegas mob story, one features King Kong, one's a tribute to The Hound of the Baskervilles that finds Fury sword fighting a ghost ("Unghh!" Fury thinks. "He packs a lot of punch for a spook! Best I can hope ta do is parry—but for how long?"). Anything goes, with characters like "Countess Caution" and sci-fi tech like Fury's "special-design high-powered Ferrari 330/P4 Berlinetta," with "vortex beam devices in the wheel rims" and "hydrolic-mounted cannons." By the time the collection wraps up with a too-short gallery of Steranko art, some of it once un-publishable (his "rendering of Contessa Valentina Allegra de Fontaine's posterior" was "too scandalous" for 1968), it's clear why these stories are so remarkable: Like Steranko, they're one of a kind.
Sponsored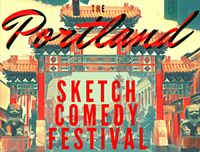 Sketch comedy troupes from all over N. America descend on The Siren Theater for 3 glorious nights.