WHEN LEBANESE FOOD arrives at my table, without fail, I chastise myself for ordering too much. Did I need hummus and baba ghanoush? Kafta and lamb? I sheepishly help the server jigsaw the plates in front of me. Twenty minutes later, I'm asking for extra pita to soak up the labneh and picking at the dregs of tabbouleh with my fingers.
Sponsored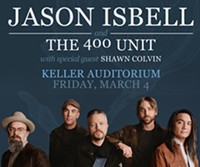 Jason Isbell has established himself as one of the most respected songwriters of his generation. Don't miss Jason Isbell and the 400 Unit, March 4th at Keller Auditorium!
There's something about the balance of flavors in Mediterranean cooking—garlic and olive oil; mint and citrus—that allows my taste receptors to trump any discomfort caused by my belt cutting into my flesh. When I want to gorge myself, this is the food I do it with.
TarBoush, Portland's newest Lebanese bistro, didn't disappoint on that count. The portions were intimidating, but at meal's end, my date and I wheeled and dealed for last bites. The staples are all there, and all done pretty well. The bigger question for fans of this particular cuisine is where it fits in with what Southeast Portland's already got—Nicholas, Ya Hala, Lauro Kitchen, even Wolf & Bear's.
My go-to order, and an appropriate place to form a first impression, is the mezza platter. Comparable to tapas, mezza is a combination of small plates that vary a bit from place to place, but (at least stateside) it's typically anchored by hummus, pita, tabbouleh (a salad of finely chopped parsley), and, depending on your taste for flesh, kabobs or falafel. The highlight of TarBoush's mezza, for me, was the baba ghanoush. It's a safe bet that you're dealing with amateurs when it's almost indistinguishable from the hummus. There was no mistaking this one. The eggplant flavor was rich and distinct, and the texture was smooth and creamy, just how it should be.
The dark horse was the chicken kabob—moist throughout and drenched in lemon juice. I was surprised by how quickly we demolished it while the beef kabob—uncharacteristically dry, tough, and flavorless—sat idly by.
Seventeen bucks for the signature mezza ($12 for the vegetarian) isn't a bad value considering the portions, but you are looking at almost twice what you'd pay at Nicholas, which, on this count, is putting out comparable food.
When I've strayed from the mezza at Nicholas and Ya Hala, however, I've been mostly disappointed. When it comes to entrées, TarBoush is carving out a niche. I can't recommend the lamb shank ($17.50) highly enough. Two full legs of meat are stewed to a melt-in-your-mouth texture, then dished over far more basmati rice than you'll ever want to eat. It's served with a light tomato sauce that complements, without overpowering, the flavor of the lamb—take full advantage of it.
The lunch menu features a few totally serviceable wraps—falafel, shawarma, or kabob ($5.50-7.50)—but if you can suck it up until springtime when it reopens, you'll be far better off with the transcendent wraps Wolf & Bear's serves up from their food cart on SE Morrison.
The only outright unpleasant dish I've tasted so far was the arayess cheese ($6.50 at happy hour)—basically a quesadilla made with pita and halloumi (usually a mixture of sheep and goat's milk). The cheese is far too sharp for the red-pepper paste, and after forcing down a triangle or two, I abandoned it in favor of more happy hour-priced baba ghanoush ($5).
The other obvious plus is a full bar (something too many Middle Eastern restaurants neglect), and while I can't say my Willamette Valley palette was very impressed with the Lebanese Bekaa Valley wine—you know... props for trying. On the nonalcoholic side, TarBoush offers several regional juices. Though the traditional way to drink them is without bubbles, I think next time I'll opt for the sparkling option. My rose juice with pine nuts and raisins was lightly sweet, but too syrupy to be refreshing. It mostly made me thankful for their liquor license.
I haven't tried the hookah, but if that's your thing, there's a covered outdoor area that will accommodate you.
The ambiance is certainly a step up from its immediate competition, but a bit of a letdown considering TarBoush has made home the SE Hawthorne Victorian that once housed Belly Timber. The space is beautiful, but decorated haphazardly with Middle Eastern kitsch; there's a TV downstairs that silently plays cheesy Lebanese music videos; the neon "open" sign in the window above our table didn't do the cozy front room any favors. Maybe it's got more character than Lauro Kitchen—the high-water mark in town for haute Middle Eastern dining—but it's a tad disappointing that TarBoush isn't quite the charming date spot it might appear from the street.
Or maybe not... after all, who wants a first date to see you licking olive oil off their plate?