LOS ANGELES smells of car exhaust and freshly mown lawns in Emma Straub's great debut novel, Laura Lamont's Life in Pictures. With neither rose-colored nor Vaseline-coated lenses, Straub paints an elegant portrait of the rise and fall of a beautiful film star in the Golden Age of Hollywood. At once familiar and velvety new, this is a story filled with the dreams and fantasies of aspiring actors, of anyone who has left their rinky-dink hometown to seek the warm adoration of the limelight, and what happens when the light snaps off.
As a small girl growing up at her parents' summer theater in Wisconsin in the 1920s, Elsa Emerson loves being surrounded by the trappings of the stage—plays, actors, and memorizing lines and slipping into character. But when her troubled and dramatic older sister commits suicide after a torrid love affair with one of the theater's leading men, Elsa turns to the stage with a new fervor. She marries young to Gordon Pitts, a traveling actor, and they move to Hollywood to try to make it big. While Gordon is signed to a character-actor contract, Elsa stays at home to take care of their new baby daughter. Pregnant with her second child, Elsa is discovered by Tinseltown bigwig Irving Green, who changes her name to Laura Lamont, dyes her bright blonde hair brunette, and eventually marries her. She soon goes on to take the town by the ear as the exotic "it girl" of 1940s cinema, wined and dined and awash in glamour.
While Straub certainly covers a much-visited Hollywood myth, her storytelling is beautifully gentle and stylish in its execution, and because the character of Laura Lamont is so much more regal, delicate, and resilient than the Norma Desmonds of the boulevard of broken dreams, her story is wholly fresh. Laura bends this way and that, as she weathers declining popularity, addiction, heartbreak, and financial strife, all the while struggling with her sense of self in a town where identity means everything and nothing all at once. "There was something magical about being inside a place like this, a place where glamour and imagination mattered more than what you'd been called since birth." Emma Straub's novel is a seductive story that feels as soft and luxurious and fragile as a perfectly constructed silk dress—as effortless to try on as it is enjoyable to behold.
Sponsored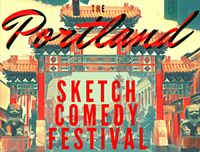 Sketch comedy troupes from all over N. America descend on The Siren Theater for 3 glorious nights.