I'M OF THE FIRM BELIEF that if you say you like going to the gym, you're a liar. No one really likes sweating in front of other people—NO ONE. But we're all trying to be better people in 2016, right? Eat more vegetables, quit smoking, shotgun fewer pizzas, and maybe actually work out every once in a while.
Sponsored
Sketch comedy troupes from all over N. America descend on The Siren Theater for 3 glorious nights.
The combination of my new year quasi-motivation and meager bank account is how I found myself alone in my living room with a stack of clunky, 50-cent VHS tapes—all promising to make me "sweat," "tone," "burn," and convert my fleshy buns, arms, and abs into sleek machinery!
The bright, flashy covers and repulsive typefaces of '80s and '90s workout tapes were more inviting than any modern in-home workout I've found. Sure, I could've tried Jillian Michaels' 30 Day Shred, but shredding my body just sounds terrifying and messy. And just looking at the rippling torso perfection of P90X DVD covers on Amazon intimidated me all the way to the thrift store. There I settled on a cocktail of low-cost nostalgia and fitness that I'm branding "Sweat, Rewind, Repeat: A 2016 Resolution."
Here's what I ultimately learned from the classic VHS workouts: Exercise doesn't change. Exercise fashion does. Additionally, my roommates think it's weird to find me spread-eagled on the floor doing leg lifts to synthesizer music. Overall, though, the workouts were challenging, the instructors were encouraging, and even when my abs were burning, I could get a good laugh out of the exaggerated, dated programs and how stupid I looked doing them. To help you get on the "sweat, rewind, repeat" train, here are reviews of a few tapes I tried.
Jane Fonda's Original Workout (1982, 30 minutes beginner session, 60 minutes advanced)
Jane Fonda's Original Workout bills itself as the best-selling workout video series of all time, and when it was released on DVD and digital download in 2014, people LOST THEIR SHIT. Everyone's mom had a copy of this around the house, and I can see why. Mostly the workout feels like excessive stretching, but it's a decently balanced routine that I'm not dreading doing again.
What you need: Legwarmers.
You'll like this if: You're into a workout that's a mix of Pilates, ballet barre, and a coke-fueled Studio 54 afterparty in a gym.
No VCR? Available on YouTube for $7.99.
---
The Original Buns of Steel (1987, 52 minutes)
The first in a long line of [BLANK] of Steel franchise tapes, Greg Smithey—a slimy, low-level fitness cult leader—directs a repetitious class that will turns buns of cinnamon into a mass of twisted, cramping beef! He encourages his workout squad—who look like they might've been blackmailed into being there—to "squeeze the cheeseburgers" out of their thighs... which is weird, because then all I could think about was how badly I wanted a cheeseburger, and how my ass was ON FIRE.
What you need: A set of non-alloy buns and a pillow to scream into during the longer leg-lifting sessions.
You'll like this if: You want to feel the worst hip cramps of your life while being mildly sexually harassed by the sleaziest backup dancer from Footloose.
No VCR? Available on YouTube.
---
Richard Simmons Sweatin' to the Oldies 3 (1991, 80 minutes)
Richard Simmons graciously provides admission to an "an aerobic concert" at the Sweatin' Land Carnival! A magically decorated studio where a diverse crowd of professional dancers, formerly overweight people, and currently overweight people execute pony steps alongside a live band! More than half are wearing sequins. This workout didn't disappoint, as I did in fact "sweat to the oldies."
What you need: Make sure your roommates and partners are out of the house, and won't be home for some time. Then, commit.
You'll like this if: You enjoy giving yourself hugs, being reminded to check your heart rate, and you want to be able to do your workout in jean shorteralls.
No VCR? Available on YouTube.
---
More Fitness Issue Articles:
The World of Alterna-Fitness!
Air Guitar: The Dumbest Workout You Should Be Doing
A Food Critic's Quest for Fitness Glory
Sweat, Rewind, Repeat
Tips for Winter Hiking In and Around Portland
Exercise Is Not Going to Fix Your Body
Kegels: Maybe Only Do 'Em if You Want! (Or Never!)
How to Run a Marathon Without Becoming a Fitness Bro
The Purrrfection of Cat Yoga
Sponsored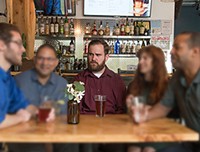 Adults aged 18-35 with good hearing will be paid for their time. Located at the Portland VA Medical Center